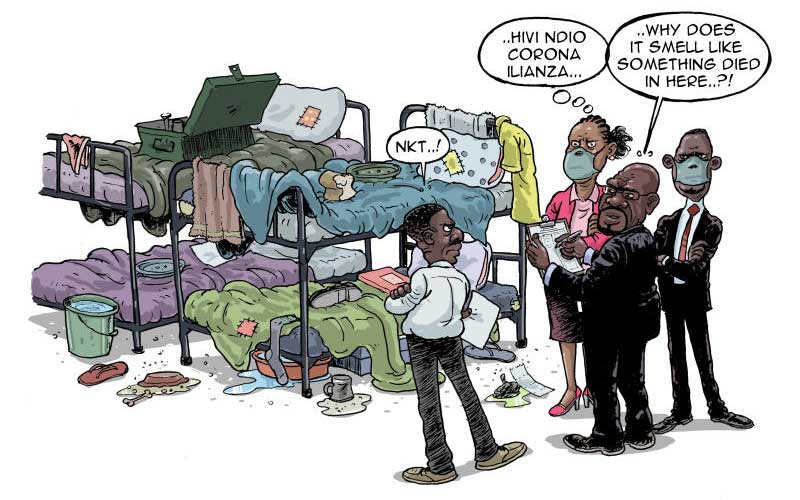 As Kenya gets ready to reopen schools after six months of closure, it is important to emphasise the critical role of self-discipline and accountability among individual students if we are to keep Covid-19 out of our learning institutions.
Granted, children in primary schools may not be quite aware of the gravity of the situation they find themselves in, and teachers will need to take a lot more responsibility for their safety. But for students in high school and tertiary institutions, it is most likely clear to them that life on campus as they knew it, is about to come to an end.
The biggest responsibility in curbing the spread of Covid-19 will lie with the students themselves. Most high school teachers do not reside within the school compounds, and even those that do will not be able to watch the students' every move outside of the learning hours.
It is common knowledge that students in institutions of higher learning have a lot of newfound freedom away from their parents and guardians. Social interactions both within and outside their campuses are inevitably rampant.
Read More
Many university students thrive on the relationships built with their colleagues in their own, and other campuses. With Covid-19 equally thriving on close social interactions, it will be important for parents and administrations of tertiary institutions to emphasise the need for students to avoid any unnecessary movements and interactions.
Parents, especially, will need to keep in contact with their college-going children at all times to remind them of the need to continue observing the set guidelines.
Students who commute from their homes and those who reside outside their campuses will also need to take extra caution to avoid the possibility of importing the disease into their institutions. Teachers will need to reconsider group assignments and instead give individual work unless when inevitable.
However, we all know that behaviour change is not a one-day affair. It is a process that requires an individual's personal choice to change and adopt new habits. The decision to 'behave abnormally' once schools reopen will solely lie with individual students. Parents and institution managers can only remind them of the importance of observing the guidelines that the Ministry of Education will have put in place to ensure their safety.
While it is the institutions' responsibility to provide the necessary facilities for combating the spread of Covid-19, the decision to clean hands with soap and water, sanitise and keep away from crowds will lie with individual students.
Even with phased reopening, there will likely be thousands of students on campus at any one time. Without individual students' responsibility, therefore, it will be difficult to observe social distancing. Students will also need to resist the urge to invite visitors from outside their campuses.
While they may be able to track their own movements and interactions, they might not be responsible for those of their friends. Inviting friends and colleagues into campuses might pose a risk to not only their own health, but also that of other students. Although making some of these choices might prove difficult at first, students will need to appreciate their role as individuals in safeguarding the health of others.
Continued, uninterrupted learning will depend on each student's willingness to adapt to the 'new normal', especially given that despite the apparent reduction in the number of positive cases, Kenya is not out of the woods yet.
It is highly commendable that the ministry of education has issued elaborate rules to guide the face-to-face reopening of learning institutions following a significant reduction in the number of positive cases of Covid-19 in the country.
However, even as teachers and institution managers strive to put in place all the requirements for the resumption of studies, every student will need to take personal responsibility to save themselves and their colleagues.
They will have to heed to the 'save me I save you' rallying call to help keep Covid-19 out of the classrooms and lecture halls.
-Dr Kalangi is a communications lecturer and trainer at Kenyatta University