Locals suffer as foreign fishers pilfer stocks in Kenyan waters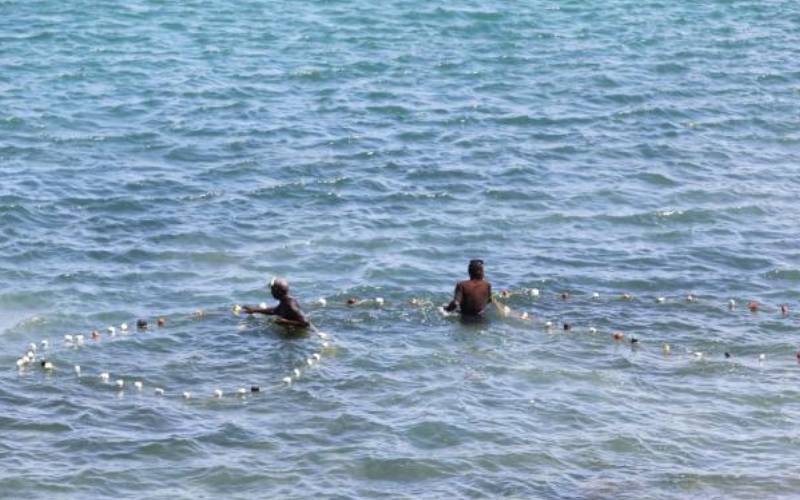 Poor governance, government's willingness to do business with foreigners, and inadequate fishing gear continue to hurt local fishing communities at the Coast as foreigners fish out Kenya's stocks.
Experts blame outdated laws, poor infrastructure and unfair implementation of laws guiding fishing at the coast as some of the main barriers that hinder optimum fishing.
According to recent census data, the six coast counties of Kwale, Mombasa, Kilifi, Tana River, Lamu and Taita Taveta have a population of 4.3 million, who mainly depend on fishing for their livelihoods.
But the impoverished locals have nothing to show for their toil and feel that government is dragging its feet to help them earn more money from fishing.
Kenya has a 1,000-kilometre coastline from Vanga to Lamu with 20 species of fish.
The coastline includes a 200-kilometre offshore exclusive economic zone (EEZ), according to a 2017 government report titled, "State of the Coast Report II: Enhancing Integrated Management of Coastal and Marine Resources in Kenya by the National Environment Management Authority (NEMA)." The country's territorial waters and its EEZs make a total area of 142,400 square kilometres.
EEZ is an area of the sea in which an independent state or country has special rights to explore and make use of marine resources, including fish, water and wind energy. This law was prescribed by the United Nations Convention in 1982.
Data from Kenya Marine and Fisheries Research Institute (KMFRI), shows that Kenya's EEZ in the Indian Ocean can produce between 150,000 and 300,000 tonnes of fish.
Dr James Kairo, the chief scientist at KMFRI said marine fishery production and inland capture fisheries mainly from Lake Victoria are capable of injecting $86 billion (Sh780 billion) per year in the country's Gross Domestic Product (GDP). This is according to the 2018 Kenya Capture Fisheries Value Chain Finance study done in collaboration with United States Agency for International Development (USAid).
However, the study shows that Kenya's fish exports account for only $20 million (Sh2.2 billion) of the over $1 billion (Sh100 billion) annual exports to the European Union (EU) with tea, coffee, tea, cut flowers and vegetables making the bulk of the exports.
According to the fisheries expert, Kenya loses fish worth $100 million (Sh11 billion) to illegal, unreported and unregulated fishing ever year, by foreign boats on the country's waters.
"Marine fishery production is between 5,000 and 9,000 tonnes per year and contributes only 0.8 per cent to the GDP. This is against an annual potential of 300,000 tonnes," said Kairo.
Agriculture Cabinet Secretary Peter Munya said lack of appropriate legal framework hinders investment in the marine fisheries.
He called for a comprehensive, modern legal and regulatory framework for fisheries management because the status and progress of national laws is not reflected in the international legal and institutional arrangements.
"As a result, conflict in law enforcement and duplication of tasks in fisheries management arise. This greatly limits surveillance efforts in the Kenya fishery waters, leading to many cases of IUU fishing," Munya said.
The Third Medium Term Plan (2018-2022) of the Kenya Vision 2030 for the Blue Economy sector notes that there are no domestic fishing fleets in the EEZ currently.
Thus, straddling and highly migratory fish stocks in the EEZ are exploited by Distant Water Fishing Nations (DWFN) like Tanzania, USA, China, Italy and a number of other European countries. Consequently, the local communities do not benefit from the exploitation of the EEZ stocks.
The policy document also notes that the current licensing system for fishing in Kenya's EEZ does not encourage and ensure sustainable exploitation of the stocks and does not adequately benefit the locals.
Thus, foreign fishers are attracted to the Kenyan coast waters due to its rich Tuna belt, where about 25 per cent of the world's tuna is harvested. KMFRI said 90 per cent of fishing grounds is unexploited by locals and is left to IUU fishers.
Data from KMFRI shows that small scale artisanal and subsistence fishers who catch coral reef fishes like rabbitfish, parrotfish, emperors, small tuna, octopus, squids, prawns and lobsters.
"The marine fishery is mainly exploited by foreign fishing vessels and targets skipjack, yellowfin and bigeye tuna. These include USA, China, Italy and a number of other European countries," said Kairo, also a mangrove silviculture and management expert.
The foreigners catch big fish like sharks, rays, snappers, grunters, groupers, emperors, sicklefish, jacks and mackerels and smaller commercially important species of Jacks and Silver Bellies.
David Mutugi, a fisherman based in Mombasa, said the low fish catch by the local fishing community is attributed to inshore overfishing due to artisanal nature of fishers who operate small craft propelled by wind sails and manual paddles.
"Few Kenyan fishers can catch high-value species like tuna in EEZ using deep sea vessels. This allows foreigners who illegally fish in Kenya to catch thousands of tonnes of fish, leaving small vessel fishers with little catch of less than 5kgs per day," Mutugi said.
Hamadi Mwinyi who has been fishing octopus at Shimoni area of Kwale for 25 years and is part of a 60-member group who have specialized in octopus fishing and the 700-member Shimoni BMU agrees.
"We sell a kilo of fish at Sh250 to our BMU. Those who sell directly to middlemen or exporters sell at a lower price. This only impoverishes us," Mwinyi said, sympathizing with his group, made up of fishermen, fish dealers, boat owners and builders and tour operators.
"We buy a kilo of fish from fishermen at Sh250 and sell it to hotel owners and exporters at the same price. But visitors to the hotels buy a kilo of fish at Sh1,000 while the exporters sell at a minimum of Sh2,000 per kilo," said 67-year-old Rishad Hamisi, chairman of the Shimoni BMU.
Further, the local fishermen are not allowed to go beyond four kilometres into the ocean, which limits their ability to catch more fish.
"With this inferior gear, we were able to harvest an average of three million kilogrammes of fish in 2019 which fetched us Sh750 million. This can triple when we get modern gear for fishing," Hamisi said. He added that this is the average catch of the 10 active BMUs that operate along the coast.
A 2018 government evaluation of the pelagic stocks by KMFRI in the Indian Ocean has shown that bigeye, skipjack, albacore and yellowfin tuna stocks, are overfished and need stringent management regulations.
A drop in the annual catch 1990 and 2005 is associated with lack of appropriate fishing regulations, leading to over-fishing of the lagoonal reefs beyond their maximum sustainable yields.
Data also shows that prawn fishery has declined from a high of 1,300 tonnes per year in 1990s to a low of 150 tonnes per year in 2009.
The decline led to closure of prawn fishing due to conflict between locals and the semi-industrial fisheries, over-fishing and environmental degradation due to bottom trawling.
It also shows that over the last 25 years, the catch of sea cucumbers has also declined from a high of 227 tonnes in 1990s to only six tonnes in 2016.
"This is attributed to over-exploitation, habitat conversion, climate change effects and live Lobster exports," Kairo said.