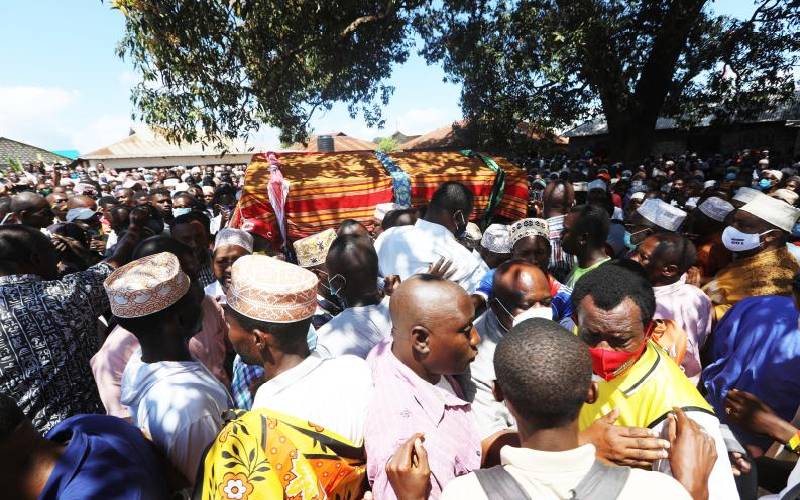 Mombasa was thrown into mourning yesterday following sudden death of veteran politician Mwalimu Masoud Mwahima, from what family members described as high blood pressure.
The former Likoni MP, 78, who was also battling hypertension and diabetes died on Monday night at his humble Vyemani home where he was buried yesterday afternoon. Some accounts indicate Mwahima, who never attended formal school as a child, was born in 1949.
His contemporary at the Mombasa Municipal Council and later Changamwe MP Suleinman Seif Kajembe died in hospital about two weeks ago.
Mombasa politics
In spite of his humble background, Mwahima rose to the pinnacle of Mombasa politics as mayor after years as a councillor for Shika Adabu Ward and later as two time MP for Likoni constituency until 2017.
Read More
The polygamist politician remained popular and only lost that poll for joining Jubilee, which was unpopular in Mombasa in the 2017 polls.
His knowledge of English was remarkable for a man with little formal schooling as a child. His oratory skills in Kiswahili in and out of Mombasa Municipal Council and National Assembly were legendary.
Thousands yesterday turned up for Mwahima's burial at his home at Vyemani in Likoni sub-county.
Some family sources said he suffered what appeared like asthmatic attack before he died in his house. Hours earlier, he had been treated at a local hospital.
He was buried exactly at 1:20 pm at Kwa Mwahima family cemetery, some metre away from his home.
The septuagenarian died Monday night at around 11:30pm at his home shortly after taking supper in what the family said was "pressure" he has been suffering after losing the 2017 elections.
His eldest son Mohammed Mwahima said his father has been in and out of hospital for medical check-up but denied he had contracted Covid-19. His death came just about three weeks after that of Kajembe who succumbed to Covid-19 at a local hospital.
"Mzee died yesterday Monday night after developing some difficulties. He was well during the day and he even went to town where he did some shopping," Mohammed said.
Mombasa Governor Hassan Joho Ali yesterday eulogised Mwahima as a development-conscious leader and defender of the people of Likoni.
"Mombasa is engulfed in sadness as we mourn the demise of one of our prominent elders and leader, Mzee Masoud Mwahima. He was a pillar of strength and always stood firm in defence of the people of Likoni and Mombasa at large," he said.
Kwale Governor Salim Mvurya said Mzee Mwahima will be remembered as one of Coast's legislators who stood for the region and his people throughout his career as councillor, Mombasa mayor and later MP.
"I have learnt of death of the former Likoni MP Masoud Mwahima's death with sadness as he did not exhibit any condition of serious illness since he went out of active politics after the 2017 polls," said Mr Mvurya.
Kilifi Governor Amason Kingi described Mwahima as a visionary and charismatic leader who championed his people's rights and envisioned a united Coast region.
"I join the people of Likoni constituency and Mombasa County at large in mourning the passing on of former Likoni MP Mwalimu Masoud Mwahima," said Kingi.
Mwahima served as Likoni MP having won the seat on ODM ticket between 2007 and 2017. He was ousted by Ms Mishi Mboko.
He contested the 2017 elections on a Jubilee Party ticket after defecting during his second term following President Uhuru Kenyatta decision to formally resettle more than 10,000 squatters on a 930-acre land owned by farmer Mr Evanson Waitiki.
Previously, Mwahima who was a staunch supporter of the ruling party Kanu had served as Mombasa mayor from February 1999 to April 30, 2002 when he was bundled out after he allied himself with the then Ford People leader Simon Nyachae.
Mwahima shifted support to Nyachae after differing with then Local Government Minister Uhuru Kenyatta and Mombasa Kanu leadership led by Shariff Nassir.
On April 27, 2002, Mwahima was arrested on allegations of abuse of office and detained until April 29 when he was arraigned.
However, when then Shika Adabu councillor stepped into his office at the Town Hall on April 30, 2002, he learnt that he had been replaced as mayor in a full council meeting convened by the town clerk.
He had served as deputy mayor, replaced Najib Balala in 1999 as mayor after he (Balala) had resigned in a huff over his differences with councillors and local Kanu leadership. He had served as Shika Adabu councillor from 1988 to 2002.
Deputy mayor
In 1997, he was elected deputy mayor under long-serving Mayor Ahmed Mwidani and then later elected deputy to Mr Balala, who is the current Tourism and Wildlife Cabinet Secretary.
While serving as mayor in 2001, Mwahima was in the news after he sat the Kenya Certificate of Secondary Education (KCSE) at the Kwale high school centre. He attained grade E.
Mwahima first contested the Likoni parliamentary seat in 2002 on a Ford People ticket but lost to Mr Suleiman Shakombo whom he beat in 2007 after he (Mwahima) had crossed over to ODM.
Mr Mohammed said his father has been pursuing bachelor in business administration after completing a diploma course.