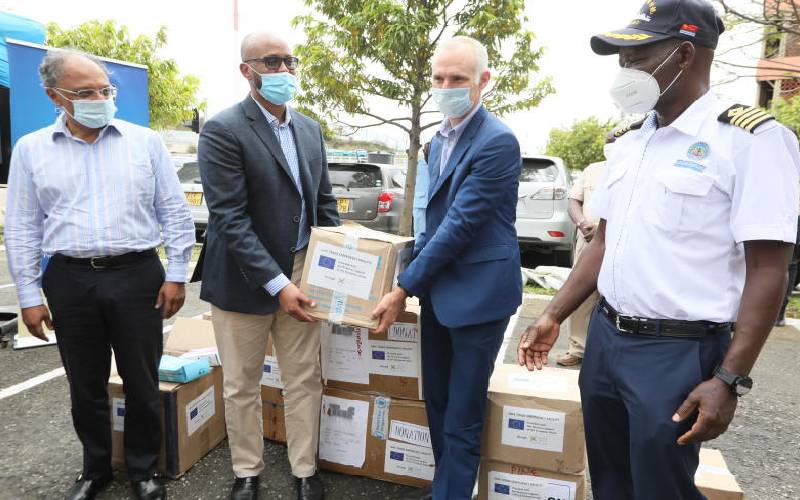 The government and development partners are finalising plans to set up an exclusive Covid-19 test laboratory for truck drivers at the Coast Provincial General Hospital in Mombasa County.
Speaking at the Port of Mombasa on Thursday, Health CAS Dr Rashid Aman said the ministry is aware of the critical role truck drivers play in the economy of the country and beyond hence the need to come up with a system to address efficiency testing of truckers.
'' We have been testing the general population including high-risk persons but needed to come up with a different stream to test the truckers. We have held very successful discussions with the International Organisation for Migration (IOM) and have identified a laboratory at the Coast Provincial General Hospital where testing equipment will be installed for truckers,'' he said.
Read More
Aman said once the truck drivers have their samples taken at the Miritini Testing Centre, they shall be sent to the new laboratory at Coast Provincial General Hospital for faster release of results.
He explained that testing of truck drivers is very critical in this era of Covid-19 but has been hugely affected by constant delays at key border crossing points in the region leading to cargo delays across borders.
''Since Covid-19 free certificates is a requirement for all truck drivers plying the region's highways and crossing common borders poses, the new will ensure results come good time. We are also coming up with an application that will enable quick transmission of the tested driver's results to the designated border crossing,'' he said.
Dr Aman spoke on the sidelines of a function to donate Personal Protective Equipment (PPEs) worth Sh100 million from the European Union (EU) through the Trademark East Africa (TMEA).
Preventive measures
Kenya Ports Authority (KPA) General Manager (Operations) Captain William Ruto said the donation will protect their staff from contracting the virus.
''We are delighted for the donation. They will ensure that all our staff operate at the port of Mombasa are safe,'' Capt Ruto said.
He said they have taken all the preventive measures at the Port of Mombasa to contain the spread of the virus.
''When Covid-19 hit our nation, we suffered two fatalities and recorded seven positive cases. We have now been declared a safe place to work after taking all the precaution to curb its spread," he said.
Ruto said they have put in place 142 handwashing stations in key public areas within the port, sanitisers and dispensers at various points including entry and exit gates and that it is mandatory for all those entering the port to wear face masks at all times.
On his part, East African Community Principal Secretary, Dr Kevit Desai while lauding the donors said that Kenya was committed to ensuring that transformation of logistics and safe trade continue despite the virus pandemic.
TradeMark East Africa Country director Ahmed Farah said the donation forms part of the pledge to continue supporting KPA in its mandate to deliver on efficient cargo movement.
European Union ambassador to Kenya, Simon Mordue said that the PPE donation to KPA will be sufficient to last between three to four months.