Environmentalist: Tsavo park fires fuel human-wildlife conflict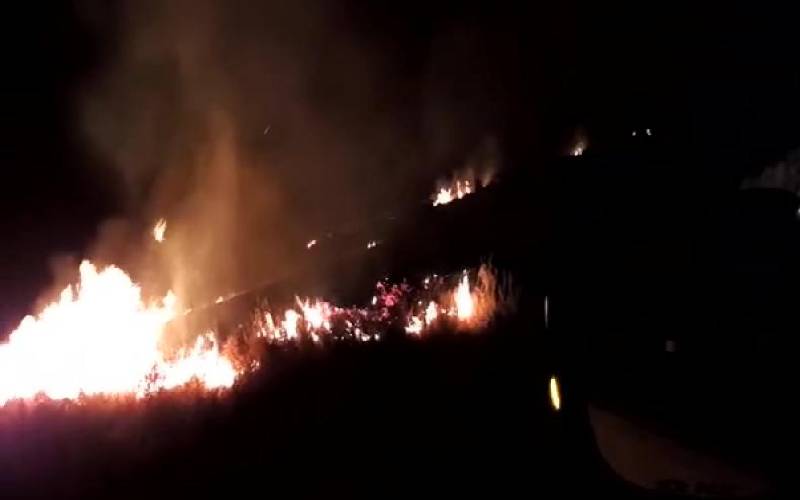 National wildlife agency KWS is today counting losses following a fire that ravaged the Tsavo West National Park on Thursday night.
By Friday, agents were still working to put out the fire that affected thousands of acres.
The fire is said to have started in three different places which included Taita Ranch and Kikunduku in Chyulu.
Environmentalist Bristol Mwazighe, however, criticised the frequent fires which he said is one of the reasons that will push the animals to conservancies and people's homes.
The fire, which has been on for approximately three days, threatens animals.
The agency said the animals which may in turn migrate and threaten residents in villages include lions, snakes, elephants, among other wild animals.
In three months, three have been three fire incidents in different parts of Tsavo West National Park.
The park is split into Tsavo East National Park and Tsavo West National Park which cover 21,000 square kilometres and is Kenya's biggest.
Tsavo East National Park is situated in a semi-arid area previously known as the Taru Desert and is located near the town of Voi in the Taita-Taveta County. Tsavo West National Park covers an area of 9,065 square kilometres.
The Park is home to most of the larger mammals, vast herds of dust–red elephant, rhino, buffalo, lion, leopard, pods of hippo, crocodile, waterbucks, Lesser Kudu, Gerenuk, Hirola, cheetah, wild dogs, buffalo, giraffe, zebra, and Nocturnal Porcupine.
In May, a fire broke out at Tsavo East National park but was however extinguished.
KWS said that the inferno started in a village known as Lebanon, 15 kilometres from Voi town.
In January, Kenya Wildlife Services Director-General John Waweru noted that the conflict was fueled by declining space for wildlife.
He said declining resources, climate change and closure of wildlife corridors had also seen the number of attacks go up.
Speaking at the close of a one-week conflict compensation claims processing workshop at the KWS Training Institute in Naivasha at the time, Wildlife Principal Secretary Fred Segor said loss of habitat and closure of migratory routes were other causes of the conflict.