Top officer blames juniors for British aristocrat's death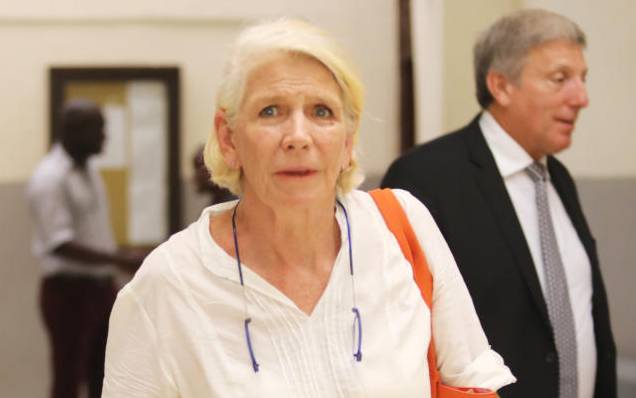 A senior police officer has told a murder trial that two junior colleagues manning a reporting office when British aristocrat Alexander Monson was detained seven years ago should be held responsible for his death.
Monson, the heir to the Monson baronetcy, died chained to a hospital bed hours after he was arrested and detained by Diani Police Stations in May 2012.
An initial police inquest claimed he died of a drug overdose but following protests from his family, a postmortem was performed showing he died after being hit on the scrotum and back of the head with a gun butt or kicked.
A judicial inquest recommended murder charges against Chief Inspector Charles Wangombe Munyiri, Corporal Naftali Chege, Baraka Bulima and John Pamba.
Chief Inspector Raphael Mulwa yesterday told Justice Erick Ogola that constables Pamba and Baraka, who were at the report office on May 19, 2012, should be held responsible for any inmate who was in the police cell on that day.
"The two police officers who were manning the report office on May 19, 2012, should be held responsible for anything that happened to inmates in the cell if they did not take action by informing their immediate seniors," Mulwa told the High Court in Mombasa yesterday.
Mulwa, who was being led in his testimony by Senior Assistant Director of Public Prosecution Alex Muteti, said the officers in question should have informed any officer above their rank if any of the inmates was unwell.
Last June a Mombasa court concluded that Monson died from a head injury inflicted in police custody. The inquest recommended that the four police officers be charged with murder.
Monson's mother Hillary Martin, has already testified. Monson was the son of Lord Nicholas Monson and heir to the family estate in Lincolnshire. He came to Kenya in 2008 and was living with his mother in Diani, where she has been staying after divorcing her husband.
Report office
Yesterday, Mulwa identified two officers in the dock as the ones who were in the report office on a fateful day and insisted he saw Monson tipsy after being arrested at Tanduri Night Club before being transferred to the police station.
"I spoke to the white man and I found him very cooperative. He was asked to board a police vehicle and he agreed to have his vehicle driven by an officer," said Mulwa.