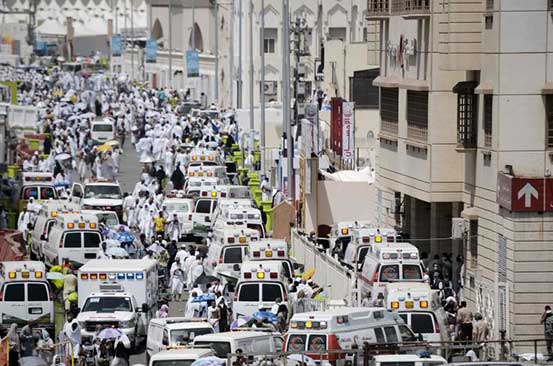 Sixteen Kenyans were killed during last month's pilgrimage to Mecca in Saudi Arabia, an official in charge of pilgrimage affairs in Kenya has said.
Among the dead were nine women and seven men, who were all buried in Saudi Arabia.
Most of those killed died in the stampede at Jamaarat in Mina during the performance of the 'Stoning of the Devil Ritual' but one died at the start of the pilgrimage when a huge crane collapsed on worshipers at the Grand Mosque in Mecca.
Saudi authorities have claimed that about 800 Muslims from across the world were killed in the stampede, which they initially blamed on indiscipline among African pilgrims.
Other sources in the Saudi kingdom blamed Iran for the tragedy, but reports later showed the stampede erupted when excited pilgrims surged forward to catch a glimpse of a member of the Saudi royal family who was performing the stoning ritual from inside his car.
Speaking in Mombasa Wednesday, Supreme Council for Kenyan Muslims (Supkem) Organising Secretary Shariff Hussein said most of the 16 Kenyan pilgrims who died lost their lives in the accidents, but three others (one woman and two men) died of natural causes unrelated to the crane crash and stampede.
The first to die was Aden Hassan Alio from Moyale who suffered injuries after a huge crane fell at the construction site within the Grand Masjid Haram in Mecca.
Mr Hussein, who is also the deputy chairman Hajj Affairs, said that another Kenyan, Ibrahim Mohamed, was still undergoing treatment at the Zaher Hospital in Saudi Arabia after he suffered a broken leg. He is expected to be discharged from hospital in two weeks.
He said that a Kenyan woman aged 70 years is in the intensive care unit at the same hospital after falling ill. Another Kenyan, Hassan Mamdani, who had a successful heart operation died days after the surgery.
"We lost 16 Kenyans during this year's Hajj. Saudi authorities did all they could to assist the injured. It was an unfortunate happening," Hussein said.
Iran leads all the affected countries, saying it lost 465 pilgrims. Mali lost 254 people, while Nigeria lost 199, Cameroon 76, Niger 72, Senegal 61, and Ivory Coast and Benin both lost 52.
Others include Egypt with 182, Bangladesh, 137, Indonesia, 126, India, 116, Pakistan, 102, Ethiopia, 47, Chad, 43, Morocco, 36 and Algeria, which lost 33 of its pilgrims.