Recluse Paul Murage who wiped out his family and community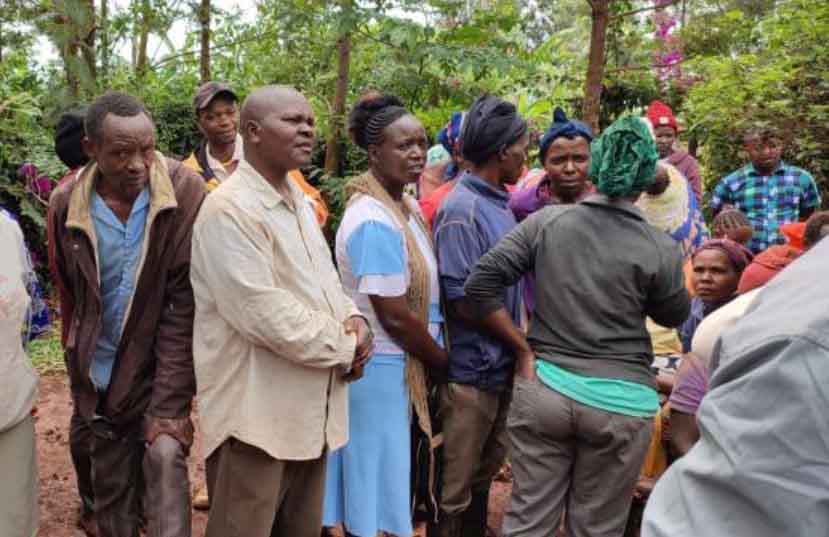 Kathata village in Kabare ward in Kirinyaga East sub-county yesterday woke up to the horror news of a father who had wiped out his family of five before attempting to kill himself.
According to neighbours, the 35-year-old recluse whose only reputation was abusing and selling bhang had a tumultuous relationship with his 38-year-old wife.
It all ended tragically on Sunday night when Paul Murage killed his wife Millicent Muthoni, daughters Nelly Wawira, 13, and Sheromit Wambui Muthoni, 5, and sons Gifton Bundi Muthoni, 7, and Clifton Njuki Murage, 1.
According to area chief Murimi Ndambiri, Muthoni was an ardent church-going Christian who got married to Murage with three children. The one-year-old could be the only child she had with Murage, who turned himself in at Kianyaga Police Station on Monday after apparently spending the night in a house where the cold bodies of his spouse and children lay.
The scene of the murder, a three-roomed brick walled shack with a detached kitchen shed without walls signified the horror death of the five.
The two beds in the rooms had multiple axe blows, splintered wood spattered with brain matter and blood.
What is surprising is that the compound is just 40 metres from his parents' home, but they have told police that they did not hear any commotion, perhaps due to the heavy rains that night.
It was not until the suspect walked to Kianyaga Police Station on Monday around 9.00pm that his neighbours suspected something was amiss. Murage handed over two stones of bhang to the police who promptly arrested him.
What happened next left the officers shell shocked. He told them that he had not come to turn himself in over bhang and went ahead to confess that he had butchered his family.
Police traced the village yesterday morning and found everything was as described by Murage.
According to neighbours, the husband was shunned by all in the village including his parents and siblings as he was well known as a bhang smoker and seller.
"Sometimes he would not even respond to your greetings, so we generally kept off his path," said a neighbour.
Villagers recounted that it is as if Muthoni had a premonition about her death and kept telling her friends not to cry when she is killed by her husband.
It is believed that the woman had stayed in the violent marriage for the sake of her children.
Kirinyaga East sub-county OCPD Anthony Mbogo said the police found several cans of pesticides, and a t-shirt that the suspect had wrapped them with.
The bodies were found lying on their beds with multiple cuts on the head.
A slasher suspected to be one of the murder weapons was retrieved at the home.
Police were led to a river in the neighbourhood where Murage told them that he disposed the killer axe but nothing was yet to be found yesterday.
Mbogo said that according to the confession by Murage, the argument about the alleged defilement of the 13-year-old daughter seemed to have triggered the murders.
"When the mother demanded to know the truth, a quarrel started and Murage left for an unknown place only to come back at night and commit the heinous act," said Mbogo.
Village elder Charity Wanjiku said it appeared that when Murage got home, he managed to get into his house through the window which he again exited after the killings.
Another village elder said they were on patrol on Monday when they met the suspect in one of the village paths.
"He asked us whether we were investigating him and upon saying we had nothing against him he went on with his journey," said the elders.
Efforts to remove the bodies to Kerugoya morgue are ongoing as the heavy rains have made roads impassible and the vehicles are stuck with the bodies.
The suspect's father Njuki Murage said that they are still in shock following the incident.
He said Murage and his wife Muthoni quarreled only once and that she did not consume alcohol as alleged by his son.
"I have lost my grandchildren, I loved them and they loved me back, we are lost of words," said Njuki.
The family has been left in confusion as the two were seen together on Saturday where they had been casual labourers.
"We are still in shock trying to come to terms with what Murage did, the two lived well with no family dispute. The two could be seen together looking for manual jobs, the mother is unable to speak from the shock, " Murage's father said.