Where farmers would rather use 'shoe-wearing' oxen for transport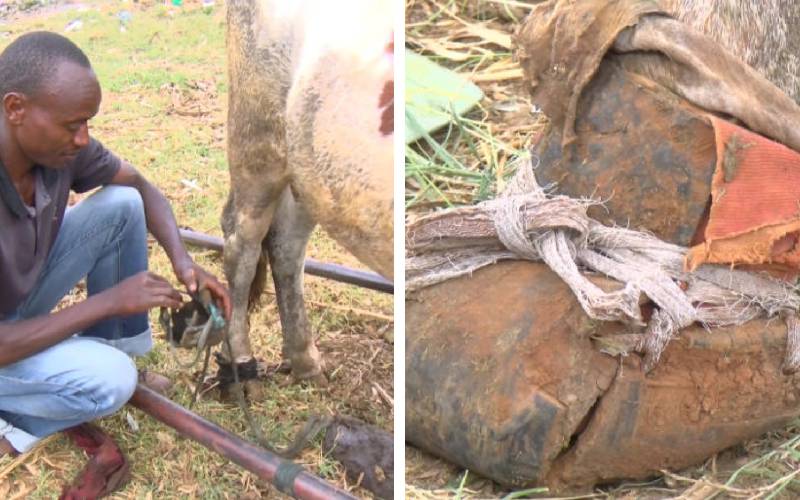 Held every Monday and Thursday morning, Kutus market day is one of the biggest fresh produce markets in Kirinyaga county.
The area is usually a hive of activity as local farmers transport their farm produce on ox carts for sale.
Ox carts are the preferred means of transport in the area as most farmers prefer using it to transport bulky produce from their farms.
Despite the evolution of modern means of transport, ox cart transportation has continued to dominate rural areas of Kirinyaga as it is considered cheap and efficient.
Every market day, Humphrey Ngari adjusts "shoe laces" for his bull as he leaves his Ithare-ini village home in Kabare area to transport bananas to the market.
Ngari transports hundreds of bananas from various farms in rural areas to Kutus every Tuesday and Thursday, an economic activity that he has perfected for the last 20 years.
"I started making rubber shoes for my oxen when I noticed their feet would get injured and swollen after transporting goods for long distances and on rough and tarmacked roads," he said.
The injuries had led to major losses for Ngari and he decided to invent cattle shoes to ensure the health of the animals, cut his losses and boost their productivity.
It is a problem that does not afflict the better-known beast of burden — the donkey — which is more popular in Mwea. But farmers around Keruguoya-Kutus or Kirinyaga Central prefer oxen, which they believe is more resilient in hauling large loads and easier to maintain.
The ox shoes are made from used motorcycle tyres, which are cut to size and bent with fire to ensure they fit the ox foot.
He then lets the animals strut the highways as they ferry farm produce, which ranges from sacks of kales and dry rice to crates of tomatoes and loads of cabbages.
"There is only one ox shoemaker in the county who resides at Ithare-ini village in Gichugu, and the owner of the ox must take the proper measurements of the ox foot for proper fitting before the shoe is made," said Josephat Karoki, the chair Ox Cart Self-Help Group.
While fitting the shoes, Ngari said that the owner must first create a good working relationship with the animal by ensuring proper feeding, and training.
"At first, most of the oxen resist the shoes but with proper training, they become calm and it is easy to fit them," he said, adding that a pair of shoes goes for Sh200.
Since the invention of the shoes, Karoki said none of the members of the oxen cart welfare is unable to take their produce to the market due to a sick animal, adding that they are even making plans to make it mandatory for all oxen cart transporters from the area to ensure they are fitted with shoes.
Albert Murimi, an ox cart transporter, said the shoes enable him to ferry over 70 bunches of bananas to markets more than 30 kilometres away without pushing the animal beyond its limits, a task that cannot be performed by an ox that is not fitted with the shoes.
Besides fitting the oxen with shoes, Murimi said the transporter must ensure that it is well fed, sprayed against parasites such as ticks and regularly dewormed to ensure it is healthy enough for the hard transport labour.
Murimi said he has been feeding his family and educating his children through the ox cart transport business for 10 years.