Why Gacheri loves helping cows to conceive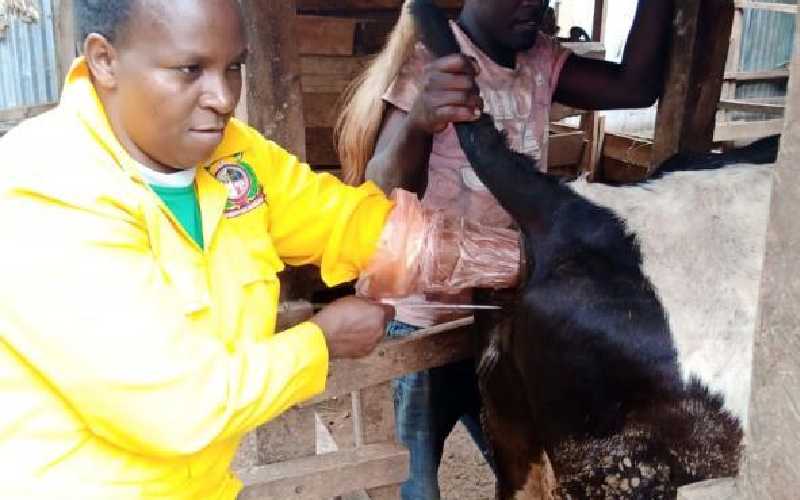 Patrick Micheni's cows could not get pregnant despite multiple insemination attempts, and this frustrated the dairy farmer.
Micheni, from Kirege in Tharaka Nithi, spent a lot of money on private Artificial Insemination officers, but the cows could not conceive.
Until Purity Gacheri, a veterinary officer and darling of dairy farmers in Chuka-Igambang'ombe, came to the rescue.
"I got to know about Gacheri's talent in getting cows to conceive. She inseminated my cow and I now have a one-year-old calf. I named it Gacheri, even though it is a bull," said Micheni.
Frank Mutegi is among the big number of farmers who have also benefited.
"I had tried inseminating my cows four times with no success. Then Gacheri came and it got pregnant. I called it Purity," he said.
Gacheri's fame has spread far and wide, "She knows her job because she never misses," Mutegi said.
To show their love for her work, dairy farmers have named their cows after her, making her a household name in the region.
As a result, cows named Gacheri are all over villages where she operates, and farmers are happy because of her work in creating the next generation of dairy cattle.
Gacheri's passion for veterinary services started early.
"Growing up, I witnessed bizarre incidents that saw my parents and neighbours lose their livestock to diseases and other avoidable mishaps due to unavailability of vet services.
"This fanned my passion to become a vet. The thought of being the first woman vet in my area created a rather unstoppable energy in me towards achieving the feat," said Gacheri, who trained as a vet at the Animal Health Training Institute (AHITI) at Ndomba, Kirinyaga County.
"I owe it all to my tutors and trainers who imparted me with all requisite knowledge and skills I needed," she said.
Gacheri, who works as a veterinary officer for both the county government and privately, has been in practice since 2000, the year she graduated from college.
So good is she at the job that many farmers have her number on speed dial and she is inundated by calls when cows go on heat. She is currently stationed in Mugwe ward in Chuka Igambang'ombe under the county government's Agriculture and Livestock Department, she started out at Farm Africa, a British organisation which had started a dairy goat project in the larger Meru region.
"Here I worked as a vet for their dairy goats' project in Mitheru location. During this time I trained as a goat artificial inseminator," she said.
She hopes to continue becoming better in her practice and during her free time also engages in part-time private veterinary services.
"I also aim to further my studies in order to offer better services to farmers. Seeing them increase their yields is my greatest joy," said Gacheri.
She especially loves dairy goats and it mellows her heart to see a farmer's healthy stock. So, does she own any cattle?
"I don't have any. I keep dairy goats in large scale. I think cows are too involving," she responded.