Muturi coronation raises the ante for Mt Kenya kingship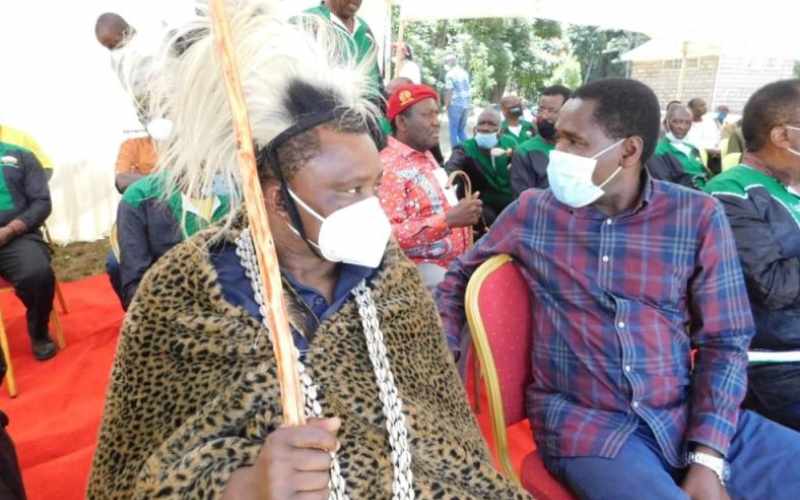 Having dominated the country's political scene for over half a century, the populous Mt Kenya region is finding itself in an unfamiliar territory.
Early signs show that, for once, the region will be without a formidable presidential candidate next year after President Uhuru Kenyatta hangs his political boots.
This emerging scenario has left political bigwigs from the region battling on who will inherit the political capital after Uhuru calls it a day after 10 years at the helm.
But despite his close associates publicly declaring that "he is too young to retire", the pronouncement has not deterred those coveting the kingpin role from displaying their claws.
Yesterday's enthronement of National Assembly Speaker Justin Muturi as the Mt Kenya East spokesman placed him on the growing list of politicians angling to take the mantle of leadership in the voter-rich region.
By appointing Muturi as their spokesman, Mt Kenya East, consisting of Meru, Embu and Mbeere, appears keen to chart its own political and social path separate from the rest of the Kikuyu speaking region.
Muturi's coronation by the Meru's Njuri Ncheke elders in their shrine in Nchiru, Meru County, puts him at the apex of the battle to succeed Uhuru, who is constitutionally obligated to leave office after August 2022.
The elevation thrusts him into a pool of politicians who are either interested in the presidency or are upping their game and increasing their chances to catch the eye of those who will be fishing for presidential running mates from the region.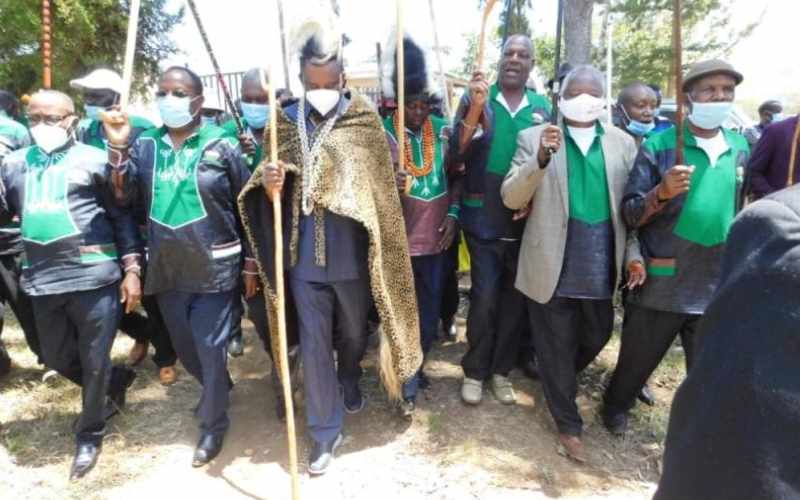 After President Kenyatta's second and final term, coming after that of retired President Mwai Kibaki, there has been a talk that it would be unlikely that the country would elect another president from the region.
President Kenyatta waded into the matter during the funeral of Hannah Mudavadi, the mother of Amani National Congress (ANC) party leader Musalia Mudavadi, when he argued that maybe it was time for Kenya to have a president from outside the two communities of Kikuyu and Kalenjins.
The deep political debate now is who among Muturi, former Agriculture Cabinet Secretary Mwangi Kiunjuri, and governors Mwangi Wa Iria (Murang'a) and Anne Wairugu (Kirinyaga) will stand out.
Others mentioned in the succession politics are former Kiambu Governor William Kabogo, Agriculture Cabinet Secretary Peter Munya and Tharaka Nithi Senator Kithure Kindiki.
Uhuru has kept everyone in the region guessing on his preferred heir apparent in the Mt Kenya region and has not been seen to be either close to any of the politicians in the region or hinted on who he would back.
Deputy President William Ruto, ODM leader Raila Odinga, Baringo Senator Gideon Moi, Wiper leader Kalonzo Musyoka and Mudavadi, who have declared interest in succeeding Uhuru, are all salivating for the junk of over five million votes from the Mt Kenya region and its community members in the other counties.
Ruto has made forays into the region and Kiunjuri and Kindiki have been on his political radar as possible running mates.
Raila has also been courting the region's leaders and has hosted elders at his Bondo home twice with a promise that he will have one of their sons or daughters on a top seat, especially if his push for Building Bridges Initiative (BBI) goes through.
The BBI proposes the creation of positions of prime minister and two deputies.
On Friday, Raila's elder brother Oburu Oginga said the opposition leader will soon begin a tour of Mt Kenya. "Raila will visit the region to promote BBI and he will also reach out to people of Central for his 2022 bid," said Oburu.
Apart from former Gatanga MP Peter Kenneth and Wa Iria who have declared interest in the presidency, most of the politicians have sent a political message that they could settle for the other top national seats.
Though the significance of Muturi's elevation is that it brings a majority of the Gema sub-tribes together, it will likely spur a political furore, given that he comes from a minority community of the Mbeere in Embu.
But who exactly is behind Muturi's political push to take over from President Kenyatta?
During his installation yesterday, a curious guest at the ceremony was Munya who claimed to be "passing by since I was not invited".
My home area
"Muturi did not tell me that he is around but because this is my home area, I have decided to pass by and welcome him," he said during a brief stop over.
Munya's allies, like Meru County Assembly Majority Leader Ayub Bundi, have been opposed to Muturi's coronation, arguing the decision had not been reached through consensus.
Muturi is a close ally of President Kenyatta and sources the Sunday Standard spoke to indicated that the coronation was endorsed by Uhuru.
The elders are said to have sought his blessings at a meeting in Sagana last month.
"The elders from the Njuri Nceke, Nyangi Ndiiririri, Ngome of Embu and Mbeere approached the president in Sagana and requested that he supports one of their sons from Mt Kenya East to rise to the top seat if he retires and the president said he had no problem with it," said an elder privy to the talks.
The source said Muturi has been reached by the Njuri Nceke Council of Elders, the Kiama Kia ma, the Kikuyu Council of Elders, the Embu and Mbeere cultural elders, as well as religious leaders in talks that have taken over a year now.
In Ruto's camp, leaders from Mt Kenya are demanding that he picks his running mate from the region and coincidentally, Muturi who is seen as the president's confidant is among those being fronted.
Kindiki is one of the leaders pushing for a political party for the region that will enter a coalition deal with Ruto.
Unlike his competitors, Muturi does not have a political party to front himself. Kiunjuri has The Service Party (TSP), Moses Kuria People's Empowerment Party (PEP) while Munya is associated with the Party of National Unity (PNU), and Wa Iria has the Usawa Kwa Wote party.
[Additional reporting by Phares Mutembei and Ndung'u Gachane]