At 74 years, Samuel Karanja feels that he is in his sunset years.
The former teacher says he has 'seen it all' and he is now preparing for the next stage of his life, which is death.
Yet Karanja is bustling with energy as he shows us around his farm in Bombo area, Maragua, where he has built his final resting place.
At the gate to his homestead is the word 'Saba Saba'. The number seven, it seems, holds a special meaning for Karanja. His fate, he says, is bound to '7'. His birth date, 1947, and the number of letters in his second name and that of his wife, Jane Wanjira.
Read More
His burial date, he adds, should also have '7' in it.
It is also odd that he prefers to walk around shirtless. He says he has been doing this since 1969 due to the oppressive heat and a love for the outdoors especially when it is raining.
Karanja, who is known locally as Kumenya, has written his eulogy that he says will be distributed to mourners, but not read during his funeral service. The only thing missing from the eulogy is the day of his death.
"I don't want to be praised during the funeral. Mourners will be given the eulogy to read for themselves. And for those who cannot read, they can seek assistance from others," said a jovial Karanja.
Concrete tomb
The grave is actually a rectangular concrete tomb that is about five-foot high by five-foot wide and seven-foot long. Inside is a small space where Karanja's body will be placed before two metallic doors are shut and the key thrown inside the tomb through a hole that will be sealed using concrete.
On top of the structure is a concrete pillar that has a small slab where Karanja places maize seed every morning to feed the birds.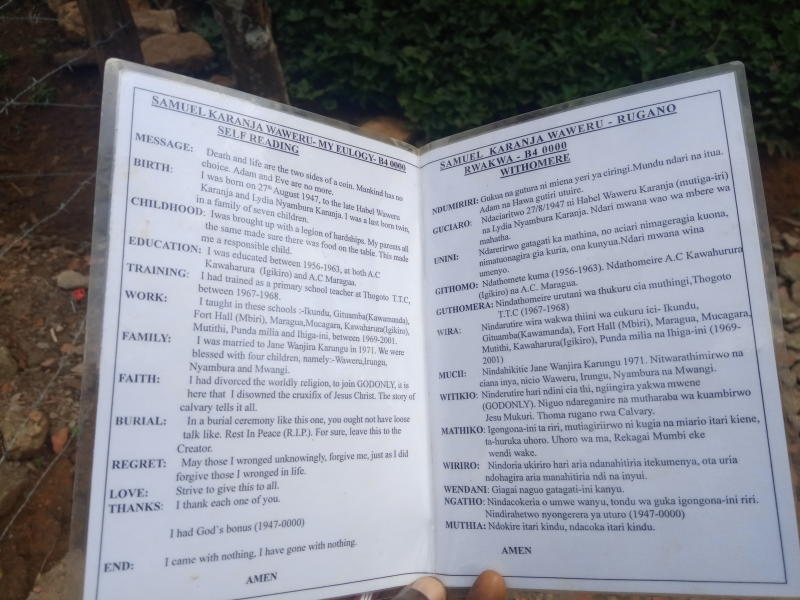 The father of three said he got the idea for the tomb during his father's burial in 1997. It rained heavily during the service and the priest instructed the mourners to cover the grave. But everyone, including his relatives, instead ran for shelter.
"I was left alone to return the soil in my father's grave. Ever since, I told myself that I would prepare my gravesite before I die so that no one will be bothered during my burial."
The biggest challenge was where to get the money to buy the building materials. His prayers were answered when a case that teachers had filed against their employer over their pension was settled in 2019.
It had been a long wait since Justice David Maraga's ruling in 2007 ordering the Teachers Service Commission to pay the retirees their rightful dues.
Karanja was among the 5,000 teachers who each received over Sh1 million. His plans kicked into high gear and his tomb was completed in October last year for an estimated Sh100,000.
The farmer has also planted sweet potato vines and macadamia trees but the produce is not for his family. Instead, just like the seeds, the sweet potatoes and nuts are meant for the velvet monkeys that regularly visit his farm.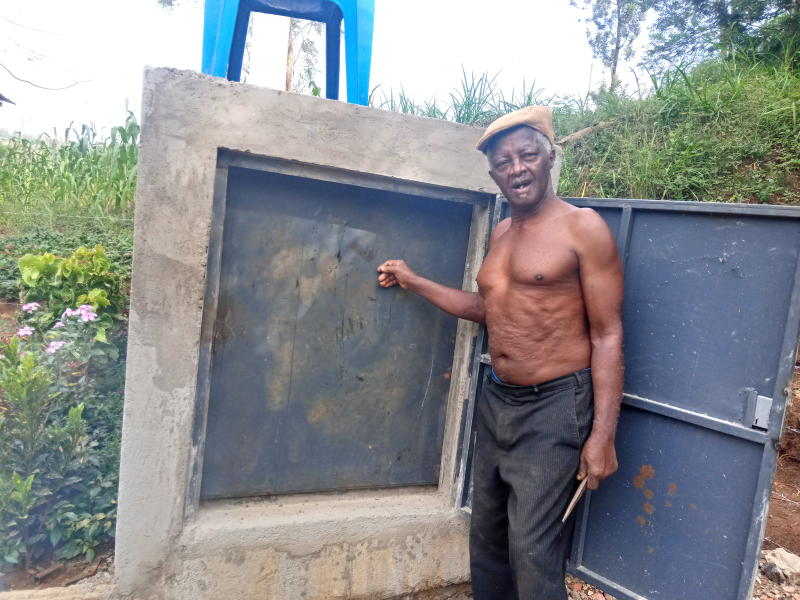 It is his duty, he says, to feed God's creatures.
Does he go to church, and is he politically inclined, we asked. Well, he says, he stopped attending church in 1980 when a clergyman mocked the congregation for the little offering that they gave.
"I was baptised at the African Independence Pentecostal Church and later shifted to the Salvation Army. But when a priest who we referred to as an officer said that our offering could not even buy him a pair of shoes, I decided to quit and started my own religion that I call 'God Only'. I don't go to church. I don't pray because God know my needs, and I don't give offerings. I believe in feeding the needy and helping others," Karanja said.
His political hero, he says, is ODM leader Raila Odinga. He has been a fan since 1997 and it is his wish to meet the leader before he's entombed.
Wanjira is the complete opposite of Karanja, describing herself as a staunch Christian who never misses church.
"I have learnt to live with my husband and respect his wishes, but I don't subscribe to them. He wants his burial done in strict adherence to his wishes and I have no problem with that. He is a Raila fan and I am not, but we respect each other's decisions," she said.
What next for Karanja? He says he is now looking for a cardboard coffin because his love for the environment cannot allow him to be buried in a wooden coffin. He will then pray that God takes him before he grows old and becomes a burden to his family.