Woman held as officers probe husband's death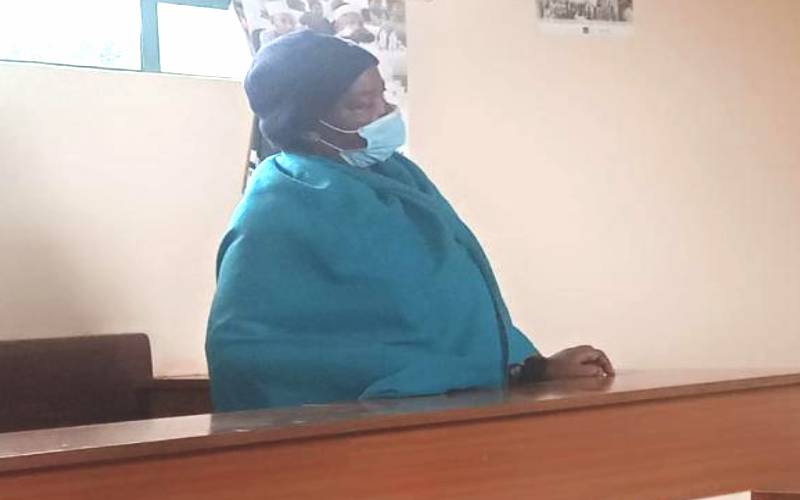 The court has allowed police to hold the widow of Kiambu businessman for 10 days to complete investigations into his brutal killing.
Teresia Wanjiru Njuguna, 62, will be held at Gatundu Police Station as investigators from the DCI homicide unit try to unravel the death of Joseph Njuguna Mbeca.
His body, which had multiple injuries on the face and head, was found in his bedroom at his Kiamwangi home on Monday.
Severe injuries
Mbeca was a businessman in Gatundu South with interest in real estate.
Inspector Raphael Wanjohi from the DCI Homicide unit, in an affidavit filed at the Kiambu Law Courts, said Mbeca suffered severe injuries to his lower jaw which were inconsistent with claims by the wife that he was accosted by a gang that raided their house.
Take a quick survey and help us improve our website!
Take a survey
Wanjohi submitted in court that the nature of injuries sustained by the businessman were not consistent with the position that the investigators found him in.
He told Kiambu Senior Resident Magistrate Wilson Rading that neighbours and the police who rushed to the house found Mbeca on his knees facing the edge of the bed.
Blood was oozing from the right side of his face and head.
Wanjohi said the last person who was with Mbeca before he met his death was Wanjiru.
Mbeca and his wife had dinner at home on the fateful day.
Officers from Gatundu Police Station who visited the scene recovered a blood-stained axe suspected to have been used to kill the businessman.
The axe, which will be subjected to forensic analysis, was found hidden under a couch.
Wanjohi told the court that Wanjiru's account of circumstances that led to her husband's death contradicted police's finding at the scene.
Police also discovered blood splatter in the bedroom.
"The statement of the respondent vis a viz the accounts of events from the crime scene do not align, which needs more and through investigations by the investigating team," he said.
On Monday, a top security commander from Kiambu County together with DCI officers visited the businessman's home.
Ransacked the house
A report from Kiambu Police Station to police headquarters, Vigilance House, stated that the businessman was attacked by unknown people after attending a Kiama (council of elders) meeting in Kiamwangi village.
The wife was quoted saying that her husband returned home in the company of three men. After he escorted the trio he was attacked by five men who claimed that he had insulted some elders at the meeting.
The men locked Mbeca in his bedroom and ransacked the house before they left.
Wanjiru raised the alarm after the attackers left. She was not hurt during the incident.
On Monday, the homestead was a no go-zone after dozens of officers were deployed to guard the crime scene while others searched for clues to the murder.