Mystery of toxic food aid given in 'Ruto bags'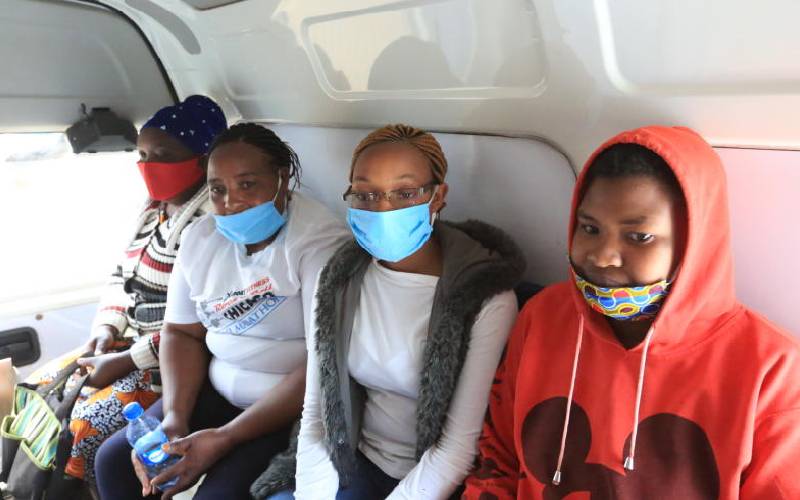 At least 20 people were taken ill after consuming suspected poisoned foodstuff donated by unknown people in Gikambura, Kikuyu Constituency, on Sunday.
Yesterday, residents who complained of stomach ache, burning sensation in the throat and tongue, went to Gikambura police post with the contaminated foodstuff. Others affected had gone to Kikuyu police station to record statements.
The food aid consisted of maize flour, sugar and green peas packaged in red nonwoven bags branded the names of Deputy President William Ruto and Kikuyu MP Kimani Ichung'wah. Some packages bore the name of Dagoretti South MP John Kiarie.
Five days ago, Dr Ruto, accompanied by the area MP, were in Kikuyu to distribute food in red bags that were branded 'William Ruto Foundation' and 'Kimani Ichungwah'.
Yesterday, Ruto's spokesman David Mugonyi said the DP's Foundation had nothing to do with the bad food. At Gikambura police post, a Kiambu County ambulance was on standby to ferry those who complained of illness to hospital.
In the course of the day the ambulance was driven to Kikuyu police station to pick those who had gone to file a complaint after it was reported that their conditions deteriorated.
Beatrice Wanjiru from Gikambura, who was the first to report to the station, said she encountered four men who were in a cream Toyota Land Cruiser, who offered her the food stuff on Sunday afternoon.
"I made some tea with the sugar I had received. I noted some funny particles in the sugar. I stirred and when I took a sip I felt a stinging sensation on my tongue. I took another mouthful and my throat was on fire," said Ms Wanjiru.
Wanjiru said she later went to her neighbour's house and found a girl who had drunk tea made using the same sugar rolling on the ground, writhing in pain.
It is at this point that the alarm was raised through social media, asking those who had received the donation not to consume it. However, by then many had already cooked the food items. "Why would someone target us this way? This sugar has some cream tablets, which we don't know, it's also dusty. How would someone want us dead just to fight someone?" Wanjiru posed.
Many of those taken ill were ferried to Thika and Kiambu hospitals, while others were treated at Ruthigiti and Kiahara health centres. Kiambu Governor James Nyoro urged security agencies to investigate the matter.
Dr Nyoro further said a medical team had already collected samples for analysis to establish the contents in the food stuff.
Nyoro warned politicians against applying politics in sensitive matters like food donations or any other issue that compromises lives of residents.
He cautioned residents against receiving food donations from unknown people, adding that there were laid down procedures for such exercise.
Karai Chief James Mburu said the vehicle that distributed the food could not be identified, as the number plate was sealed with a Covid-19 regulations banner.
Ester Wambuku, a resident of Gikambura, said she received a package of food rations that included rice, maize flour and green peas.
"We had our dinner at around, 9:30pm. I had prepared ugali and green grams from the donation package. My four children were the first to immediately complain of bloated stomachs and immediately started vomiting. We were treated at Ruthigiti health centre the same evening," said Wambuku.
Caroline Ngugi, another victim, said she received sugar, cooking oil and green grams and at around 9:30pm she developed nausea, headache and a bloated stomach.
"We don't care about politics, we want the people who donated this food arrested and charged. This area is semi-arid, how do you poison people who are already afflicted. Isn't this like adding salt to injury," she asked.
Githinji Kariuki and his daughter Mary Njambi said they made tea using the sugar they had been given and immediately after consuming the beverage they developed throat pain.
Last week, Ruto posted on Twitter that 600 families in Nachu were part of the wider 3,600 households that benefited from the food distribution to shield Kenyans from adverse effects of the Covid-19.
Yesterday, Mr Mugonyi said the toxic food aid was not from the DP's foundation. "The William Ruto Foundation would like to categorically and unequivocally distance itself from the distribution of relief food that has affected residents of Kikuyu Constituency," said the DP's spokesman.
Mugonyi said it was clear those behind the distribution of the contaminated food were engaging in political thuggery for other reasons. He said it was revolting, despicable, callous and cruel to play with the health and lives of innocent human beings to score political points.
Mugonyi said the William Ruto Foundation had been donating food in Nairobi and its environs for months now without any incident.
"Human life and dignity are higher than any political agenda. Those behind this incident are irresponsible, barbaric savages who have no place in civilised society. The William Ruto Foundation is not a political organisation," he said.
Ichung'wa, who spoke at Gikambura police post, alleged a scheme to tarnish Ruto's philanthropy. "I condemn this act with the strongest terms possible, a political fight should not have members of public as collateral," Kimani said.
He added that the move to give toxic foods was a well-oiled scheme to soil the name of the deputy president as he is the one who had donated food there a few days earlier.
"If someone wants to get the DP or me, let him go for him directly or come for me any time, directly, but capitalising on hungry Kenyans to make a political score is not only sad but extremely evil. They have the system to protect them but these people have God," said Inspector General of Police Hillary Mutyambai said the matter was serious and detectives were already investigating it.
Kiambu County Commissioner Wilson Wanyanga said investigations were underway, but it was complicated, as both food donations last week and Sunday had not followed the set guidelines as directed by the Government.