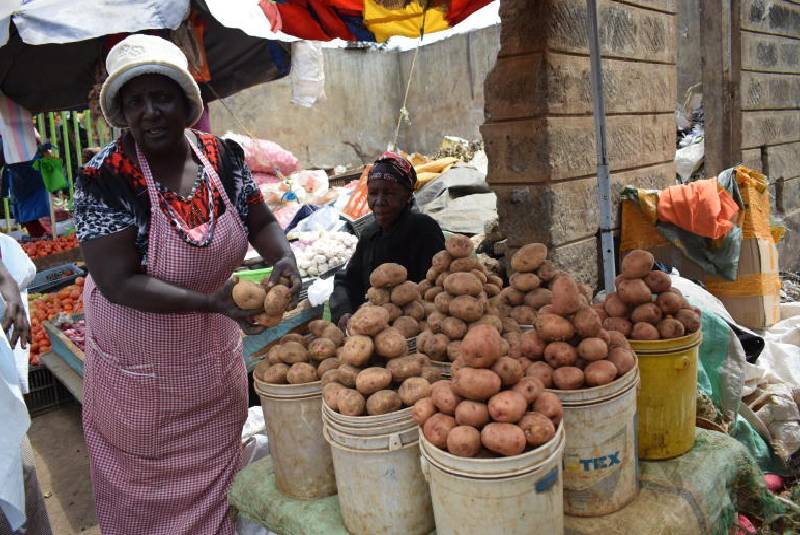 Potato farmers in Nyandarua have protested against exploitation by middlemen who are buying the commodity in extended bags.
The middle men are later repackaging the bags in 50 kilograms before they transport them to Nairobi and other markets hence exploiting them.
Read More
An extended bag weighing over 110 kilogram is being purchased at Sh2,800 by the middlemen.
The farmers have now protested against the county government for failing to take measure against the vice despite its assurance when it took over power a year ago.
Through the Potato Growers association chairman Wilfred Kimaru, they now want action to be taken against the vice.
"The law is very clear that the potatoes should be packaged in 50 kilogram bags.The middle men are now taking advantage of buying the produce in extended bags only to later repackage it in 50 kilogram bags before they transport it.They are now making a huge profit while the farmer is wallowing in poverty," he said.
He regretted that efforts to seek help from both the national and the county government have been futile.
'Why is the government not enforcing the Potato Act which is very clear? The farmers are the ones suffering despite putting more efforts in the sector," he said.
Kimaru regretted that many farmers were now abandoning the sector to other crops.
He said that potatoes worth millions of shillings were now rotting in farms as farmers could not watch as they were being exploited by the middlemen.
However Nyandarua Governor Francis Kimemia says he has initiated efforts to reform the county's ailing potato sub-sector.
He said that a committee has been formed to reform the sector.
"My administration shall ensure enforcement of packaging into 50 kilogrammes bags through its enforcement officers and a Nyandarua Potato Taskforce comprising of directors from the departments of Agriculture, Co-operatives, Trade and Finance," he said.
However, he said the issue is systematic.
"We will also set up a store center to measure exact weights, in addition to creating a revolving fund which will increase profits in the potato industry and employ more of our youths."
He added "We also need to look into the lack of seeds and market for our produce.We will not sit and watch as our people are exploited," he said.
The Governor said priority shall be given to Nyandarua farmers so that they can reap maximum benefits from their hard work.
"The County Government shall set up a potato cold storage facility in every Sub-County and establish a potato tuber laboratory in the county," he said.
The move is expected to create international markets for Nyandarua's legendary potatoes.
The Governor urged farmers to set up co-operatives for bargaining power over middlemen and to legally engage with the County Government.
"A revival of markets such as Loriondo, Soko Mjinga and Ndaragwa shall be done by piping water and immediately connecting electricity connection. Murungaru Cold storage is to be facilitated with seed capital," he said.