'Drunk' driver to blame for deadly road crash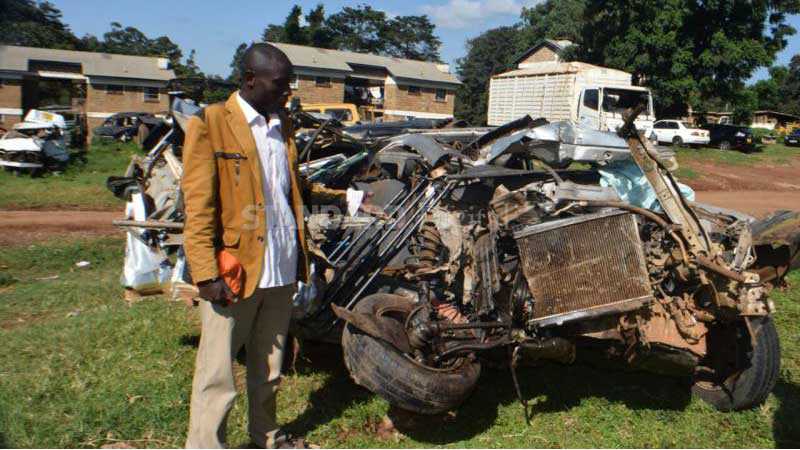 Police are investigating whether the driver of a Toyota Probox, which collided with a pick-up, killing six people was drunk.
Rescuers claimed the driver of the car that was ferrying 15 passengers from Mikinduri market to Meru was drunk at the time of the accident on Monday night.
The collision put in the spotlight the use of overloaded taxis on matatu routes in Meru that do not comply with PSV rules.
Six people, including the Probox driver, died when the car collided with a Toyota Hilux pick-up, near the Giaki junction, on Monday night.
Imenti North OCPD Sammy Kosgei said the accident at Giaki Junction on the Meru-Mikinduri road happened at around 9.30pm when the driver of the Toyota Probox tried to overtake a lorry.
The driver of the pick-up, who was the sole occupant of the vehicle, escaped with head, hand and leg injuries.
But six of the passengers in the Probox, who witnesses said numbered 15, were not so lucky.
"Five passengers in the Probox and the driver died on arrival at the Meru Level 5 Hospital. We are working to establish exactly how it happened and those involved," said Mr Kosgei in Meru town yesterday.
Businessman Mike Makarena, who was among the first to arrive at the scene to ferry the injured to hospital, claimed the driver of the Probox was drunk.
"I carried several of the injured in my car. I took two to Meru hospital and another to Kiirua mission hospital. Two died in my car," said Mr Makarena yesterday.
He said:" A survivor told us the driver appeared drunk and the passengers tried to prevail upon him not to speed. He collided with the Pickup as he tried to overtake a lorry," said Mr Makarena.
Two vehicles
Makarena said he called the county government officials who sent two vehicles to get the casualties to hospital. "Drivers on this road have become notorious as they drive drunk and overload. The police must be more vigilant on this road because we have lost so many lives needlessly," said Makarena.
Makarena said the numerous accidents on the Meru-Mikinduri road have to be curbed as it had robbed families off bread winners.
Witnesses said the Probox was overloaded as it sped towards Mikunduri town.
Boniface Mwirigi and Ben Gaite, a mechanic, were among the first to arrive at the scene to help passengers.