Booing Kikuyu crowd refuses to allow Waititu to speak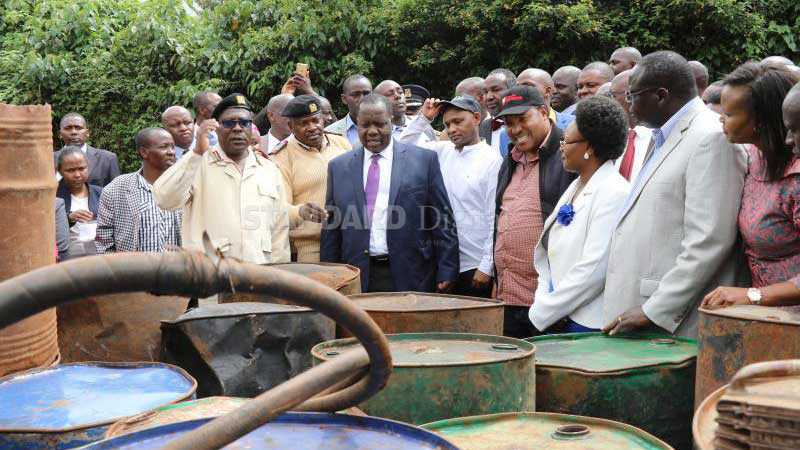 Governor Ferdinand Waititu's campaign against illicit drinks suffered a setback when he received a hostile reception during the election of members of liquor boards for three sub-counties.
Waititu, who had gone to supervise the voting in Kikuyu constituency, left when the crowd refused to allow him to speak.
The crowd also booed five local MCAs who had accompanied the governor.
Residents, who included bar owners, were angered by claims that Waititu wanted to influence the membership of the boards.
The boards will vet and license bars afresh.
Waititu had to sit down after the crowd denied him a chance to speak. He left shortly afterwards.
"We feel the fresh vetting is not fair, especially because the county government has a vested interest," said Mr James Mwaura from Kikuyu.
Mwaura said the use of MCAs as returning officers was meant to ensure that only those the county government wanted were elected.
Boards illegal
Richard Wainaina, a businessman in Kikuyu town, said the business community would challenge the liquor boards in court.
"The liquor boards are illegal. Fresh vetting of bars is also illegal because the recently passed Kiambu Alcoholic Drinks Control Act has not yet been gazetted," said Wainaina.
Before going to Kikuyu, the governor had also faced a hostile reception in Lari and Limuru constituencies, where he had gone to oversee the elections.
The governor has come under sharp criticism from bar owners and the business community after he assented to the new law he says will help rid the county of illicit alcohol.
Waititu has been accused of undermining genuine businesses. They have threatened legal action to try to suspend the new law.
However, the governor has remained undeterred, saying there was no turning back as far as the fight against illicit drinks is concerned.