Presidential elections won by 2016, latest exit poll reveals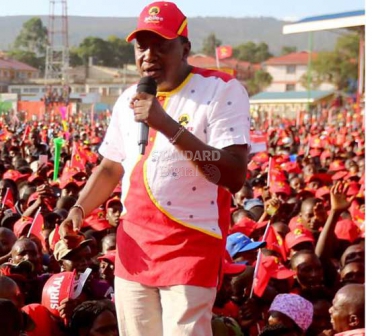 A vast majority of voters had decided on their presidential candidate more than one year before the August 8 General Election.
According to an exit poll conducted in six counties, the election may have been won long before the campaigns began. Findings from the poll show that only one in three voters made their decision within the last month of the elections.
The study, conducted jointly by research firm Trends and Insights for Africa and Standard Media Group, raises questions on the importance of political campaigns in winning future presidential elections.
Following the results of the exit polls that involved talking to voters shortly after they cast their votes, it might mean that there are few, if any, returns from the billions of shillings spent during the 10-week campaign window.
Opposition to the Sh5.2 billion campaign spending cap proposed by the Independent Electoral and Boundaries Commission (IEBC) means that leading contenders may have unnecessarily made the polls the most expensive in Kenyan history.
Official campaigns kicked off on May 28 with leading presidential candidates traversing the country in well-organised activities which, according to the poll, swayed a mere 10 per cent or less of the voters.
In Kisii County, for instance, 73 per cent of the 569 respondents polled said their minds were made up by August 2016 – against a low of 59 per cent in Bomet.
President Uhuru Kenyatta would eventually win Bomet by a huge margin compared to the 2013 elections.
Former Bomet Governor Isaac Ruto had attempted to disrupt the huge following enjoyed by Uhuru's Jubilee Party by joining the Opposition's National Super Alliance (NASA), explaining in part why a bigger proportion of his constituents made up their minds later.
His efforts however proved largely futile as Raila Odinga went on to get the backing of just over 12 per cent against Uhuru's 87 per cent.
Nationally, less than 10 per cent eventually decided who they would vote for in the last month to the elections.
A consistent result was that the choice of president had been arrived at earlier, especially among elderly, more conservative voters.
In Nairobi County, all the respondents above the age of 55 said they had made up their minds about their choice of president more than 12 months before election day.
As such, many presidential candidates wasted millions campaigning among the older members of society.
On the other hand, youthful voters, some voting for the first time, made their decisions later than their elderly counterparts, suggesting that they should be the targets in future political campaigns.
Results from the exit poll showed that a quarter of voters were taking part in this year's electoral process for the first time.
The poll was also conducted in Uasin Gishu, Meru and Kajiado counties. Results closely mirrored the elections outcome in the regions.