I make chemical-free animal feed from water hyacinth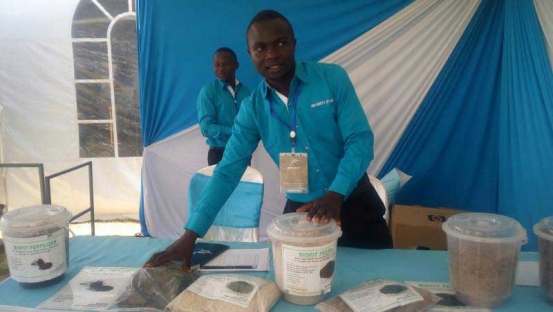 Water hyacinth has been a menace to residents living along the shores of Lake Victoria and depend on the lake for fishing. But one researcher has a solution to this nagging problem.
University's of Nairobi's Jack Omondi is using green chemistry and biotechnology to turn the stubborn water hyacinth into rich animal feeds.
To achieve his dream, in 2016, he founded the Biofit Technologies, a company that manufacturers animal feeds from hyacinth.
How he does it
So how did he come up with this invention?
"I live near the lake. I used to study how the animals fed on raw weeds scattered along the dry river banks in Homa Bay during the dry spell. I noticed they were OK after feeding on this. After studying them for a while, I was convinced that animals can safely feed on the hyacinth if the composite in the water hyacinth is removed," says Omondi.
To make the hyacinth feed, the process involves harvesting of the raw water hyacinth from the lake, cleaning it, homogenisation, melting, chelating and cooling.
"A fully produced biofit (the substance that is produced when the hyacinth has been processed) is safe and healthy for animals to feed on owing to the rigorous production stages it undergoes. It is free of any synthetic hormones or boosters that are normally added to animal feeds during production," says Omondi.
Omondi says for them, they retain the natural proteins, vitamins and mineral elements that the weeds absorb from water.
"Biofit is highly nutritious since it contains natural and safe elements which are fit for animal feed which helps in increasing their productivity," Omondi says.
The beauty of it is that biofit is easy for livestock to digest since it has been organically processed.
Heavy metals
"Raw water hyacinth is attractive but not safe for feeding animals. In that state, it contains a high level of heavy metals and wide variety of contaminants which when eaten can cause health complications and death. That is why we take it through a series of safety measure to make it palatable and nutritious," Omondi says.
The feed idea has not yet been commercialised fully yet. Mr Omondi is still working on the modalities of commercial production.
"I am in the process of registering Biofit as an animal feed processing company in Kenya. Once the registration is done, farmers will be able to buy it in the nearest agrovets."