How technology has helped school to end years of unrest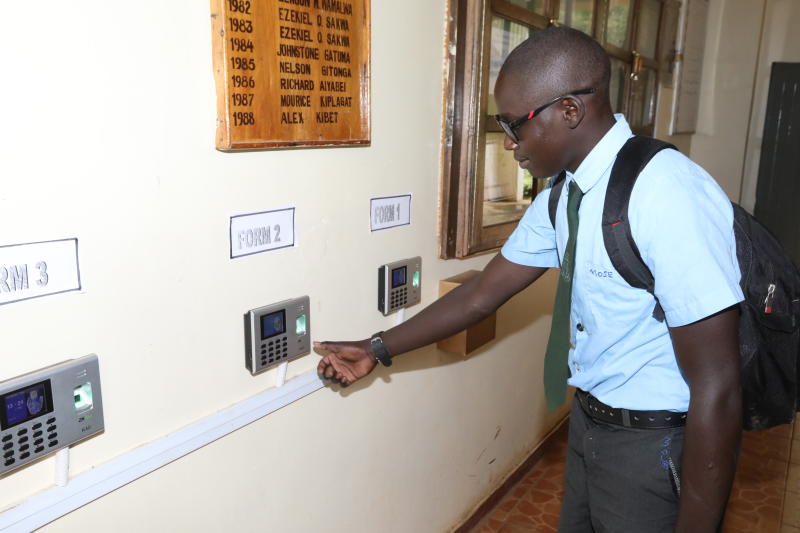 It is a rush against time at Tambach Boys High School, as students stream into the institution for the third and final term early this week.
The students hurry away from the gate after hawk-eyed security guards have inspected their luggage.
Their next destination is a wall at the administration block. Here, they quickly put their thumb on some four gadgets.
Watching from afar, a stranger would be forgiven for thinking that the teenagers are withdrawing money from an ATM machine. But no, these are not ATM machines and the students are not making any cash withdrawals. Instead, the boys are logging into a biometric system that sends a text message to their parents or guardians to inform them that they have arrived in school. It also indicates the exact time they arrived.
The message is simple and to the point: "Dear parent, your son xx has reported back to school at xxx am/pm, thank you and blessed day."
Check-out time
The system also works whenever any student is leaving the school, say for midterm break, leave-out or school trip.
Almost brought down to its knees by frequent students unrest and indiscipline, Tambach Boys High School has bounced back.
Established in 1948, the institution located at the scenic Kerio escarpment introduced the biometric technology last term.
Whenever students are returning to the institution either from the holidays or mid-term breaks, the school rules and regulations stipulate that they must check in before 5pm. Since the system was established, very few have missed this deadline.
"The time to loiter in town on the way to school is now history. Dad will know the exact time I arrive in school and if I take unnecessarily long on the way, he will get suspicious and call my teacher. I have to head straight to school or face trouble," said one student shortly after logging in.
The school spent Sh2 million to install the biometric technology and CCTV cameras in 47 locations. These gives the school principal and his deputy principal an opportunity to monitor the movement of students and staff.
Also charged with monitoring entry and exit of students and their movements is Nelson Seurei, a young techno-savvy accountant who also doubles up as the school bursar.
Seurei says the biometric technology was programmed to link students' thumb prints with their details, including their names, admission numbers, class and contacts of parents or guardians.
This set up easy communication between the institution and parents on student check-ins and check-outs.
The biometric system also relays the check-in details on Seurei's laptop as well as those of the school secretary and the deputy principal.
As the students check-in, the figures on Seurei's laptop screen keep shifting. By 5pm, he will know exactly how many reported and at what time. The data is printed every week for the school management to analyse.
As Seurei monitors the numbers, the school's principal Michael Cheruiyot is monitoring the student's' movement into and out of the school from a large screen in his office, where CCTV footage from all corners of the institution are beamed.
Cheruiyot uses the live CCTV footage to help him detect entry into the school compound through unauthorised routes and entrances. As such, cases of sneaking are a thing of the past.
Lasting solution
"Students can at times sneak out and then come back and fake stories that they were in school. With this we can use the CCTV and replay their movement for parents," he says.
Cheruiyot says the technology has helped him maintain indiscipline in the school after years of searching for a lasting solution.
"Sometimes students would arrive past the stipulated time, sometimes past 6pm. Nowadays they arrive on time. Their parents and teachers know the exact time they arrive," he said.
The technology has also kept intruders at bay, minimising students' interaction with strangers blamed for smuggling in drugs and fueling examination irregularities.
It has also made the work of teachers easier, as they no longer have to conduct a headcount to know who is present and who is absent. All they have to do is check into the system.
The system has received the support of parents who do not have to hold their breath every time their sons leave home for school.
Samuel Kosgei, a parent, said he was no longer worried that his son would engage in mischief on his way to or from school.
"I no longer accompany him to school because he knows I will know the time he arrives," he said.
Before the technology was installed, Kosgei had contemplated transferring his son from the school. He has since changed his mind.
"There was a time indiscipline was rampant here. We are happy a solution was found in technology," he said.
According to the school's principal, parents were not charged an extra fee for the technology. Instead, the school cut costs to save the Sh2 million for the system.
The system is attracting a lot of attention from other schools. A number of administrators have visited to learn how to deploy technology to curb indiscipline.
The County Director of Education Masibo Kituyi is full of praise for the system as a success story of how technology can be used to run schools efficiently and effectively.
"Investment in technology is worth it. Indiscipline results in huge costs during students' unrest and if technology will solve it, that should be the way to go," he said.