Kenya wins bid to host the International Open Data Conference in 2020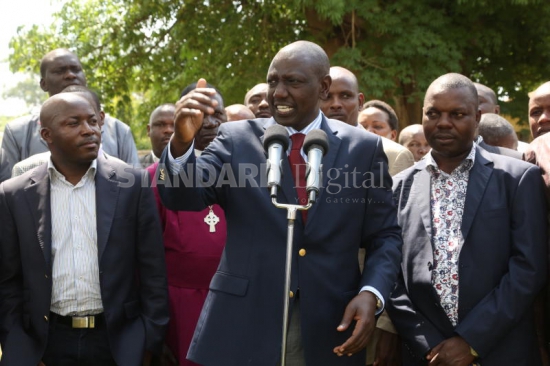 Kenya has won the bid to host the 6th International Open Data Conference (IODC) in Nairobi, Kenya, in 2020.
This is the first time the event will be held in Africa. The Announcement was made at the closing ceremony of the 5th IODC 2018 held in Buenos Aires, Argentina, last week under the theme "The Future is Open."
The IODC is a bi-annual premier gathering of champions of open data from Government, civil society, academia and innovators to share, learn and collaborate on policies, technologies, tactics, tools and platforms for making data more open, accessible and available to support development projects.
Speaking at his office yesterday Deputy President William Ruto said open government and data for development has improved in Kenya for the last three years.
"President Uhuru Kenyatta and I are committed to the creation of an inclusive data ecosystem involving the government, the private sector, academia, civil society, local communities, and development partners that tackles the information aspects of development decision-making," Ruto said when he received the baton from his legal advisor Dr Korir Sing'oei.
Ruto continued: "We recognise that if Kenya is to move ahead, we must deliberately pursue collaboration between the government, academia, and entrepreneurs. It is no longer an issue of political will, but a matter of rational economic and political choice."
Sing'oei received the baton to host #IODC20, on behalf of Kenya in Buenos Aires. He said hosting the conference will be a tremendous opportunity for the African Continent to showcase impact on how it has harnessed the power of data, technology and innovation, to respond to the age-old challenges of our populations.
"With this opportunity to host the next IODC in 2020, we are signaling Africa's readiness to play a leading role in bridging the different data communities to deliver the benefits of data to our economies and leave no one behind," Sing'oei said.
Ruto said his office has so far co-founded the Global Partnership for Sustainable Development Data (GPSDD) with over 400 leading Data Companies and Governments and energised the Global Open Data for Agriculture and Nutrition (GODAN).
The theme of the International Open Data Conference in 2020 will be "Bridging Data Communities" a vision noting the significance of the year 2020, that will mark, five years after the adoption of the Sustainable Development Goals (SDGs) and the Paris Climate Agreement (PARIS21), as well as the 5th anniversary of the Africa Agenda 2063 and 25 years since the Beijing Platform for Action (BPfA).
The 2020 conference is expected to bring over 3000 participants to Nairobi from over 100 countries. Additionally, over 50 tech international companies are expected to participate, exhibit and hopefully invest in Africa's burgeoning innovation spaces.