Concrete Jungle: Why Nairobi is losing its shine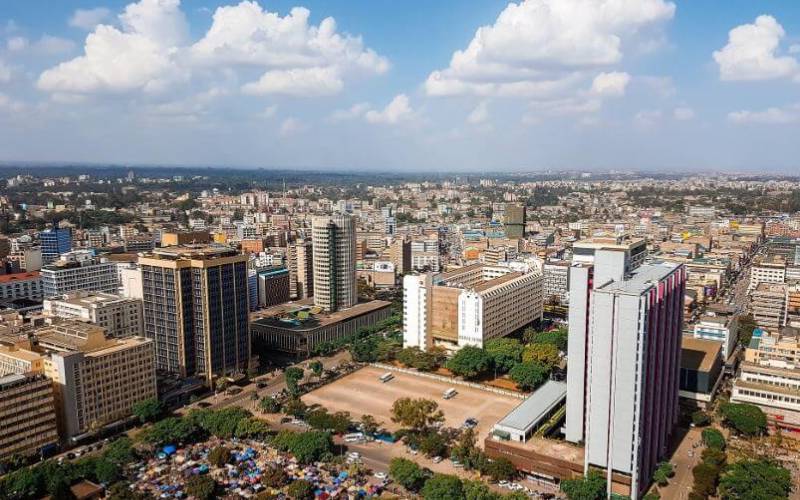 Nairobi has long carried its moniker, The City in the Sun, with pride.
But Kenya's capital, which the Maasai described as the land of cool waters, is now more of a concrete jungle as its green spaces disappear under all manner of developments including roads and buildings.
The sparsely dotted manyattas that adorned the landscape were long swept away by a wave of smoke-spewing industries and sky-kissing skyscrapers.
Over the last two decades, Nairobi's city and industrial status have grown at a fast pace.
This, unfortunately, has been at the expense of the city's future. Thanks to this growth, Nairobi is fast losing its famed green spaces.
Between 1976 and 2000, Nairobi's forest cover went down from 14 per cent to three per cent.
Bushland also reduced from 22 per cent to 13 per cent over the same period.
This brick invasion has also eaten into planning of residential buildings, with many properties lacking recreational or parking areas for tenants.
In some estates, homes share fences with chemical-emitting factories; children compete with motorists for their playgrounds even as blaring music from pubs drown out the voice of a teacher next door.
"I live in Mwiki, and my neighbour's children are forced to play along the stairs and in the corridors," says city resident Judah Ben Hur.
"It is a problem for me because I can't work peacefully."
The number of buildings, especially residential developments that have been approved by the Nairobi County Government in the last 10 years has been on the rise, with last year being the only blot in the long streak of positive growth due to the Covid-19 pandemic.
According to data from the Kenya National Bureau of Statistics (KNBS), the value of buildings approved for construction by the county government declined by Sh54 billion last year.
This was a drop of slightly more than a quarter to Sh153.6 billion compared to buildings worth Sh207.6 billion that were approved by the county the previous year.
But the lack of recreational spaces is more prevalent in individual-owned residential properties rather large residential properties.
Developers of large residential properties are required by law to ensure that they allocate at least 10 per cent of their land before development for spaces such as parking and recreation.
While majority provide these amenities, many other developers have got away with not providing the spaces.
Samuel Mburu, a registered physical planner, says the lack of recreational facilities is largely due to small land sizes.
"Individual-owned properties are mostly developed on small pieces of land such as an eighth of an acre," he says.
"Unless you are very creative, you will not have enough room for posterity spaces."
In many fast-growing residential areas such as densely populated Embakasi, Kasarani and Mwiki, Ruiru and Juja, buildings are being built shoulder to shoulder, with scarcely any room to turn.
In Pipeline estate, where some buildings go up to eight floors, many residents park on the street, leaving little space for other motorists and pedestrians.
Children have no space to play, either.
According to the law, in areas that have been designated for individual land use, the county government ensures areas are set aside for public utility.
But like many of Africa's cities, Nairobi's burgeoning population has led to increased demand for housing, office and business spaces and infrastructure such as roads, resulting in a rapid decline in public spaces.
A lack of transparency in acquiring land and issuing title deeds has also made the city fair game for unscrupulous developers and individuals to encroach on community lands.
Spaces seen as public, such as back alleys, neglected fields and courtyards are increasingly being built on, with little or no consultation with local communities.
"The law is clear on public utility land in individual residential areas. When this land is subdivided, a piece of land is left for public utility and for posterity," Mburu says.
"But lack of political goodwill has seen these lands ending up in individual hands, leaving little for the public."
For individual developers, their battle is against space and the skyrocketing price of land.
They argue that the forces of demand and supply in the real estate sector do not allow them to set aside space for recreation.
"The price of an eighth acre in the city runs into millions," says Nelson Wahiga, a property owner in Pipeline Estate.
"As a developer, I must ensure I have utilised this piece of land completely if I am to get the return on investment on my property."