Border closure hits consumers' pocket in Western Kenya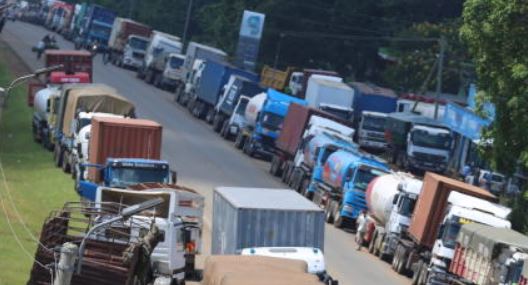 Towns in Western Kenya are facing a shortage of agricultural products leading to hiked prices, all occasioned by the closure of the Uganda border in March in efforts to contain coronavirus outbreak.
The restricted movement at the Kenya-Uganda border points of Malaba, Busia and Lwakhakha has largely affected the traders from as far as Kakamega, Mumias, and Butere towns.
On a typical market day on Fridays in Mumias town, traders would display on the streets goods mostly acquired from the neigbouring Uganda at a cheaper price.
Buyers would relish in cheaply sold vegetables, fruits, cereals and second-hand clothes.
Traders and buyers are now feeling the pinch of high prices, particularly of vegetables, fruits and cereals which are now scarce.
In Mumias town after the closure of the border, traders say it will be hard to get back to normal pricing provided the movement remains restricted.
The situation has been made worse due to the long queues of trucks at the highways leading to Busia making it hard for the traders to get their goods.
The traders who spoke to the Standard said buyers should brace for more underlying shortages of fruits and cereals.
Kennedy Majanja a fruit vendor in Mumias town said the hardship of restocking their supplies means more hiking of prices.
"We used to get fruit and vegetable across the border in Uganda at affordable prices but since March the supply went low causing shortage in the local market hence hiking of prices," said Majanja.
Fruits like pineapple, pawpaw, watermelon and mangoes sold in Kenya come from Mbale, Tororo, Soroti, Bugiri, Kumi and Bukedea in Eastern Uganda.
Currently, in Mumias town, a single pineapple fruit goes for Sh200 up from Sh120 the normal price before the border closure.
Watermelon and pawpaw fruits price have also gone up by at least Sh100 since March.
The traders say it's hard for them to get transportation of the goods from the border towns due to hiked fares in Public Service Vehicles.
"Transportation cost of our goods is now too expensive contributing to us adding additional cost when we get the goods at Mumias and other towns," said Linet Were a cereals trader at Mumias open-air market.
One 90 kilograms bag of maize currently retails at Sh3800 in Mumias town.