NCBA closes a number of bank branches, redeploys employees
NAIROBI, KENYA: A number of NCBA branches will not be in operation early next month in a move aimed at making the bank operate better after last year's merger.
In 2019, the NIC Group merged with Commercial bank of Africa forming NCBA. The merger strengthens both institutions leveraging on their combined market share of 9.9 per cent and customer base of over 40 million in four East African countries.
On Thursday, NCBA said the Central Bank of Kenya has approved its application to merge and close 14 of its branches. Seven of the affected branches had been temporarily closed since April as a result of the effect of COVID-19 pandemic.
The bank said it has selected branches in locations where they are co-located or in close proximity to each other. The branches will be merged with the impacted branches ceasing operations with effect from close of business July 4.
"The proposed actions will enable NCBA to accelerate the realisation of merger synergies, create operational efficiencies and enhance service delivery," says John Gachara, Group Managing Director NCBA.
"The staff members from the affected branches will be redeployed to support other branches or business units within our networks," he said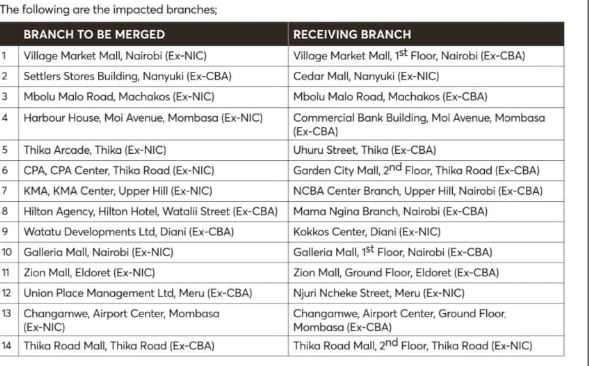 Commenting last year on the merger between NIC Group and Commercial Bank of Africa, the Competition Authority of Kenya (CAK) said it will put the two banks behind KCB Group in terms of share of retail and corporate customers.
"However, it is anticipated that the merged entity will continue facing competition from Tier 1 banks who, together, control 55.32 per cent of the market," said Competition Authority of Kenya Director-General Wang'ombe Kariuki.