State agencies at crossroads over domestic tourism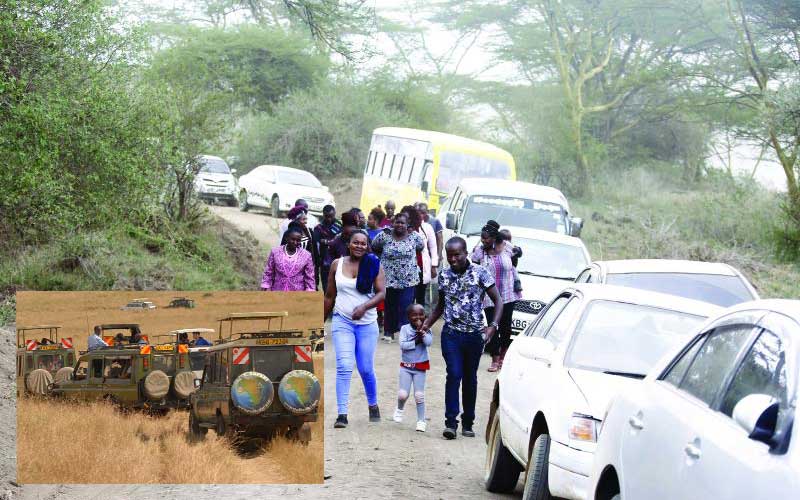 Last year, a vocal social commentator claimed that Kenyan leaders have over time primed the country for foreign investors and tourists, without much consideration for the locals.
In an article that ran in an online publication which reviewed Brand Kenya, Wandia Njoya noted that the state agency created after the 2008 post-election violence and whose mandate included fostering unity and patriotism among Kenyans, had instead chosen to focus more on assuring global investors and tourists that the country was safe to visit and invest in.
Nothing underscores this more than the Ministry of Tourism's recent ban on public service vehicles (PSVs) from accessing national parks. It appears to give credence to Ms Njoya's line of thought – that Kenya has positioned herself for foreign investors and tourists at the expense of the locals.
While matatu crew may not be the most courteous road users, the passengers they ferry into parks could truly care about the country's wildlife, but have limited options on how to enjoy some of the country's best attractions.
In a statement prohibiting PSVs from the parks, the ministry noted that there had been an increase in the number of matatus being used for game viewing in parks. The ministry however gave no alternatives for Kenyans interested in game drives but cannot afford to hire specially-designed Tourist Service Vehicles (TSVs).
"It is true that there has been an influx of PSVs or matatus into our national parks and game reserves, hired mostly by Kenyan visitors. This is not only illegal, but also dangerous, as the matatu drivers are not trained for this, nor are the vehicles designed for the terrain in those areas," the statement read in part.
"All vehicles that ferry tourists to national parks or game reserves must be licensed by the Tourism Regulatory Authority as Tourist Service Vehicles and must display the requisite stickers.
"The Kenya Wildlife Service (KWS) is hereby directed not to allow any matatus or unlicensed vehicles into the national parks or game reserves," the statement directed.
It added that TSVs are specially-designed and licensed to ferry tourists within the National Parks and Game Reserves, and are operated by licensed professional tour drivers, accompanied by similarly licensed professional tour guides.
The Ministry declined to respond to queries on use of private or hired vehicles in the parks, which are also not operated by licensed drivers.
An official from the Tourism Regulatory Authority however explained that only the use of PSVs is prohibited.
"You can use your personal car as long as you pay the requisite charges… you cannot use a PSV, you cannot use an Uber," said the official.
KWS declined to shed light on nature and level of problems caused by PSVs in national parks, with the communications office saying it was a policy directive that they were obliged to follow.
An official from the Tourism and Wildlife ministry said the directive is informed by not just the fact that PSVs are not licensed to operate in parks, but that encouraging PSVs to access the parks could also lead to an influx in the number of visitors to the parks, which might negatively impact both tourism and conservation.
"When you allow PSVs in parks, a number of things happen; one of which is that they ruin visitor experience," said the official.
"People do not spend money to visit the parks and end up in a crowded environment. This is of particular interest to visitors from abroad, many of whom have saved their entire life for a unique and serene experience," the official added.
Legitimate operators
PSVs, he said, also undercut legitimate operators.
But why would the Government license some operators and discourage others? "They are licensed for a different function. They don't have the guiding skills or the routes, or animal behaviour," said the official.
"There is unfair competition that is resulting in poor tourism habits. Tour guides are trained and are subject to a code of conduct, but matatus are unruly and could carry this trait to the parks," added the official.
Mordecai Ogada, an ecologist and co-author of The Big Conservation Lie, is however of the opinion that the authorities should hold everyone to a higher standard, instead of making it difficult for Kenyans who may not have the means to access parks.
"What the authorities need to do is enforce rules in parks. The ministry should work with everyone, including PSV stakeholders to make sure that they are aware of the rules to observe in parks, such as not driving off the roads, speeding or getting too close to the wildlife," he said.
"Our tourism industry and practice are still heavily skewed in favour of white tourists. There is a tendency to believe that the industry is exclusive to foreign tourists."
Bad behaviour in parks, according to Dr Ogada, might not be limited to matatus. There are numerous instances where foreign tourists have been photographed driving off the roads, getting too close to animals and even getting out of their vehicles, but they are never reprimanded.
"I know some even pick up certain items out of parks or get out of their cars, but are never censured. We must enforce rules equally. The wazungu tourists are also interested in sport hunting and are now making this an issue for public debate in Kenya," he said.
He added that authorities need to figure out a way of exposing Kenyans to wildlife, noting that while a child's first game drive might be in a matatu, that might be what transforms them to being wildlife conservation champions in future.
"We must give Kenyans access to the parks. I am personally involved in conservation because I had the benefit of going to the parks from at early age. If our people cannot afford that, they will never value wildlife," he said.
"We must expose our people to wildlife if we want them to have a feeling of ownership. The average Kenyan thinks that wildlife is for foreign tourists. If you ask people about the benefit of conservation, they would tell you it is because tourists visit the parks to view wildlife."
Such ownership might play part in endearing Kenyans to wildlife and reducing human-wildlife conflict, which has been a major cost to KWS.
The agency has over the years paid out billions of shillings to people whose entire crops have been wiped out, or, whose lives have been affected as a result of injuries or disabilities attributed to wild animals.
According to its most recent available report, KWS paid Sh230 million in 2015 as compensation to victims of human-wildlife conflict. This was only a fraction of the billions that communities living in close proximity to animal habitats are claiming.