Outdated systems blamed for NSE glitches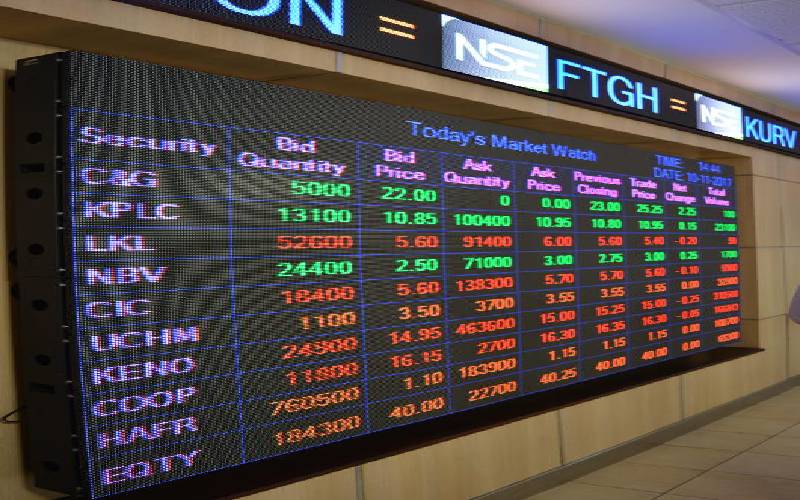 Delays in improving Nairobi Securities Exchange (NSE) systems has been blamed for outages that have halted trading three times over the last seven months.
On January 8 this year the market opened as usual at 9.30am but at 11.58am, trading was stopped.
"Trading resumed at about 2.10pm but was again halted at 2.20pm following complaints from brokers arising from double execution of their orders. Despite the halt in trading, the system was able to execute a significant number of trades," said the Capital Markets Authority (CMA) in its quarterly Market Soundness report.
And just last month on April 1, trading was suspended for about six hours due to unavailability of the Central Depository System.
Earlier on October 1, 2018 trading was suspended for six hours. CMA says, confronted with such realities on the impact of system infrastructure failures, there is an urgent need for action.
"The Nairobi Securities Exchanges, the Central Depository Settlement Corporation and the Central Bank need to fast-track system infrastructure upgrades and integration," the authority said.
Over the last five years, efforts have been channeled towards upgrading the Automated Trading System at the NSE, the Central Depository and Settlement Corporation (CDSC) IT system, and merging of the CDSC and Central Bank of Kenya Central Security Depositories.
The regulator, however, said system outages are not unique to the Nairobi bourse, having hit Vietnam in January 2018, as well as India, Toronto, New Zealand and Tokyo main exchanges.
NSE plans to have a new IT infrastructure system by June 2019, whereas the CDSC is at an advanced stage of upgrading its systems.
The launch has been postponed a number of times, with the indicative date remaining within the 2018-19 financial year. The exchange currently handles between 15,000 and 30,000 transactions per day. [Otiato Guguyu]