Shut down these industries before they kill us — Dagoretti residents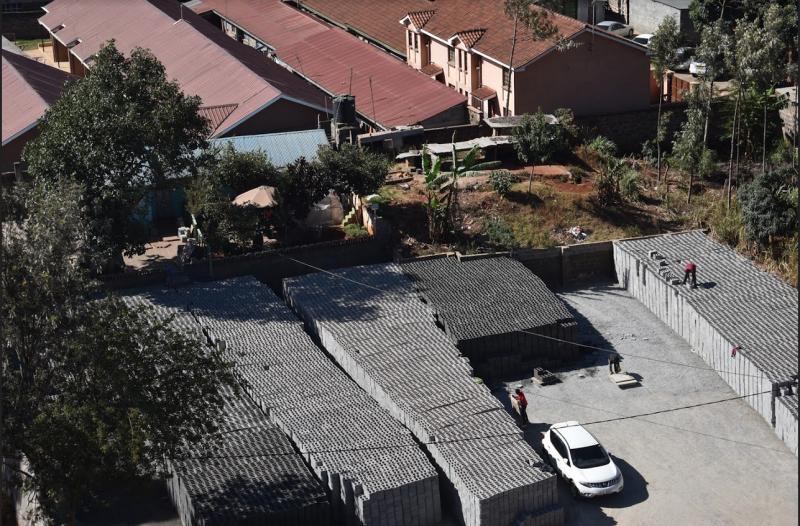 Their lives hang on a thread as giant factories devour their homes, flattening every bit of their existence day by day.
This is the situation in Dagoretti North, where residents of Manyatta and Mutuini have literally not known a good night's sleep.
The Nairobian has established that seven companies; Baran Company Limited, Dechem Limited, Murban Movers, Shyam General Merchants, Esteel Construction Limited, Elasfoury Company Limited and Prabhucom Truckers Limited are taking up space in residential areas.
The seven companies, among them four industries, are built along a 1.5 kilometre stretch on Muchugia Road off Dagoretti Road, and approximately 500 metres from Dagoretti Market.
Residents say they have had to contend with deafening noise from the industries, and they no longer can put their babies to sleep and that the ruckus gets worse at night with as of the machines run throughout the night.
A visit to the area paints a gloomy picture. Clouds of dust, smoke and chemical fumes swirl in the air, and which residents fear could have serious health effects if left unchecked.
"It's tough being a resident here today. In the past, we had clean air, the environment was perfect. Today we have to consciously decide whether to open the windows or keep them closed because the air is polluted," say Margaret Thairu, a resident who was born and raised in Mutuini.
Her homestead borders one of the factories, alleged to be releasing toxic fumes into the air. The factory, which sits on a vast parcel of land, is ringed an with iron-sheet and barbed wire fence. Like most of the companies here , it does not have a name on display. Residents suspect it could be manufacturing petroleum products.
"At night, around nine o'clock, we often see dark smoke billowing from the compound. Every morning we wake up to foul smell which hits you as soon as you open your door," says Thairu.
She says the smoke is so heavy that it settles on clothes left outside to dry overnight, and many times they have to be re-washed.
At yet another industry, works seem to continue unabated. Residents claim the factory manufactures chemicals used in building and construction work.
"You can easily pick the chemical on your lips whenever you walk past the factory, and which appears to deposit itself in your mouth and chest if you keep swallowing saliva. Most of us complain of heartburn and pain in the gut," says Thairu.
Residents also claim to experience severe headaches, thirst, dry chapped lips, constant sneezing, running noses and chest congestion, which causes labored breathing especially at night.
Accumulated fumes
Another resident, Nancy Maina, told The Nairobian that morning hours are the worst, because people wake up to accumulated fumes released throughout the night.
"The mornings are often foggy, and there is this terrible smell which lingers in the air," she says.
Children and the elderly are worst affected. Ms. Maina lives with her elderly mother who, in addition to medication to manage her high blood pressure, also has to regularly take painkillers for her constant headaches, antacids to ease stomach discomfort and decongestants for her persistent cough and chest pain.
She says that ever since the companies started operating in the area, electricity supply has been interrupted by frequent blackouts and flickering lights. Dry taps too, she says, is part of their life, and has been for quite a while.
They have been forced to used borehole water, but which they say is contaminated with cement dust. Indeed one can taste dust in the water, and which settles at the bottom as brown-coloured residue.
Not very far from Dagoretti North Road, Baran Company runs a concrete manufacturing plant on a two-acre plot of land situated right at the center of a residential estate off Wanyee Road.
Here, the company does large-scale production of cabro paving blocks, concrete pipes and building stones among other concrete products. According to the company profile, it produces more than 14,000 concrete and interlocking blocks every day. It also imports floor tiles, expensive furniture and luxurious Turkish household goods for sale.
Residents of Corner Heights Apartments which are closest to the manufacturing plant are the most affected by cement dust being blown to their houses. They also say that continuous noise from the pressing machine at the yard is too loud and goes on throughout the night, causing a disturbance especially to infants and young children.
Mrs. Njoroge, a tenant at the apartments, says cement dust emitted from the manufacturing site has worsened her asthmatic condition, turning her voice hoarse.
A medical report from her most recent check-up shows her allergy has worsened from exposure to cement dust. She is currently in the process of submitting her notice to vacate the apartments, having been a tenant there for the last four years. Ephantus Mwangi and Anna Njoroge, the manager and caretaker of the apartments told The Nairobian that the manufacturing plant has been a nuisance to their tenants.
"We woke up one day and saw these heavy trucks. At first we thought a new residential building was coming up. Later we would learn it was actually a manufacturing plant," says Mwangi. He says besides the dust and noise which the tenants have to contend with, owners of the apartments are counting huge losses.
"We have a total of 98 units in our apartments, but the turnover rate of tenants is quite high," says Njoroge. "We lose about eight tenants every month because of the noise and dust coming from the factory. It's like we lose Sh320,000 every month."
Draw attention
A one-bedroom apartment is currently rented at Sh40,000 monthly, Another 12-storey block of 80 apartments is nearing completion, and Maina says they are have been forced to seek a permanent solution to their troubles.
"We want this company shut down and removed from this area completely because the dust is too much!" he says.
In December 2018, a resident of Manyatta sent an email complaint to the National Environment Management Authority (NEMA) drawing their attention to the presence of the industries. This was followed by a series of correspondence to the Authority, which culminated with residents submitting a petition demanding their closure.
Njoki Mukiri, the Nairobi County Director of Environment in mid-February led a team from NEMA to investigate the matter. This was followed by a consultative forum at Baran Company premises in Manyatta where residents were given a chance to air their grievances.
Present at the meeting were officials from NEMA, area residents and management of Baran Company. However in a surprising twist, only four out of 60 residents who had earlier signed the petition stood up to complain. The four people who stood up at the meeting to air their grievances were booed by the rest of the residents — and forced to sit down.
"We later came to learn that a lot of money may have changed hands and most of the residents may have been 'bought'," says Ms. Maina.
Six of the seven controversial companies in question are owned by Turkish and Asian tycoons who are said to have deep links in Kenya and a lot of money to splurge.
Soner Acikgoz, one of the four directors of Baran Company says he has invested more than Sh70 million in the industry on Muchugia road alone and is intending to operate there for the next 20 years or so.
Also of interest during this meeting, the NEMA officials present acknowledged that some of the companies had commenced operations without legal documentation, including licenses. A week later, residents were called to another consultative forum at Dechem Limited where, again, support for the industries was immense. Residents are now divided over the presence of the companies, with the minority blaming their neighbours for accepting to be 'bought' at the expense of their health.
Reports allege that the companies are currently leasing the parcels of land in sums of millions. One particular resident is said to have sold his plot to a developer for Sh160 million. Another resident is alleged to have been given a house equipped with expensive air conditioning and Sh1 Million just to keep her windows shut forever. She allegedly had serious health issues due to the fumes. The Nairobian could not independently verify these claims.
Some residents claim they have been approached with gifts in an attempt to negotiate a truce and buy their silence. Some now fear for their lives, but they are yet to report any concern to the police.
NEMA Notice
NEMA officials insist majority of the companies are in good standing with the authority and have the go-ahead to operate.
Njoki Mukiri, the NEMA County boss, recently stated that Murban Hauliers, Esteel Construction Limited and Baran Company are fully licensed to operate.
She further asserted that she is not aware of any other complaints against Baran Company; both in Mutuini and Wanyee, and that the company regularly submits environmental audit report to NEMA as stipulated by law.
On January 9, NEMA issued an improvement notice order to Dechem Ltd. directing the management to stop operations at the facility and to submit their licenses to the Authority for inspection the following day.
However, operations at the facility continued, and on March 13, NEMA issued the company with a Restoration Order further directing them to cease operations at the facility until an Environmental Impact Assessment (EIA) report is submitted to NEMA and a license issued for the same.
On the same day, an improvement notice order was served to Shyam General Enterprises which stated that the factory is located in a residential area, is operating without an EIA license, its on-site personnel do not have suitable protective attire and there are no sufficient measures to protect neighbours from noise and dust pollution.
A different improvement notice was served to Prabhucom Truckers which listed among other offenses, that NEMA was not certain that the company had the relevant approvals, and it was also discharging effluent to the environment without an effluent discharge license.
By the time of going to press, it was business as usual at Prabhucom, Dechem and Shyam premises, oblivious of the orders issued by NEMA.
Dechem operations managers Kadir Coban and Fahad Omar insist that residents are in support of their operations. Coban added they are unable to stop operations at the factory to wait for dust filter to be shipped in, since the company has several running orders and pausing operations will cause massive losses.
Impunity displayed by the industries despite residents' protests, as well as the dithering and reluctance displayed by NEMA in shutting them down is raising eyebrows among those severely affected by their operations.
"It's not even about money, it's more of (residents) fearing for their lives because everyone has a right to sell their land. And if someone else is stopping them from selling, then that person could be eliminated," a government official The Nairobian.