EABL defies excise increase to grow half year profits to Sh6.6 billion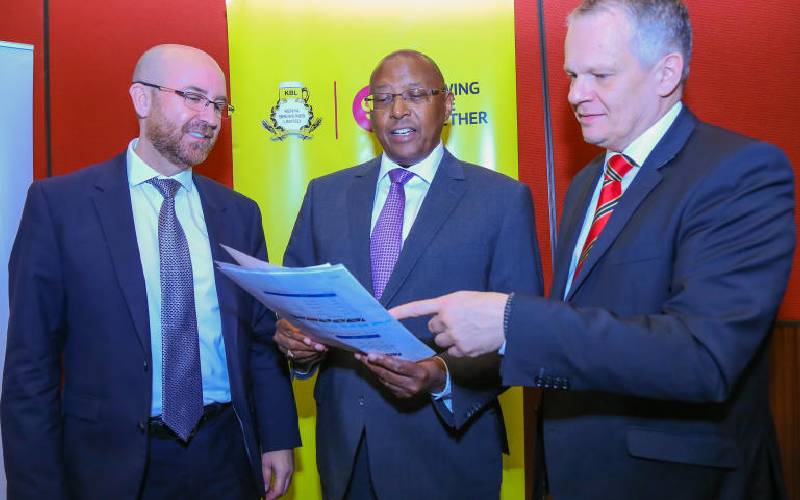 East African Breweries Limited (EABL) shareholders will see a 25 per cent increase in dividend earnings after the firm reported Sh6.6 billion in net profits.
The brewer announced a 33 per cent surge in net profits for the six months to December 2018, defying an increase in excise tax on beer.
EABL announced that the profit jump for the first half year was driven by a 13 per cent growth in sales from Sh36.8 billion to Sh41.6 billion.
The firm has seen its fortunes change in the period, recovering from the 2017 slowdown having taken a beating from the elongated electioneering period.
Shareholders will earn Sh2.5 per share in interim dividends, a 25 per cent rise from 2017.
"Our strategy, which aims to deliver a vibrant mainstream beer, explode our mainstream spirits, win in premium and recruit from illicit alcohol, has given all our businesses a broad and solid foundation from which to deliver a more consistent performance in the future," said Group Chief Executive Andrew Cowan.
Total costs grew by Sh800 million in the period under review to Sh9.4 billion. The firm's revenue was also boosted by a Sh700 million gain in foreign exchange earnings.
The firm said it had repaid the remaining Sh11.5 billion debt it owned its parent, Diageo, having secured refinancing from Standard Chartered Bank and Stanbic Bank in Kenya.
But the company declined to comment on a Sh2 billion tax provision that has carried over since the previous year on grounds that it will jeopardise its ongoing negotiations with the tax authorities.
Mr Cowan said the "exposure is still there" but it will not be in the interest of shareholders if it discussed the merits of the tax issue in public when it is still in discussion with the tax authority.
The company's strong cash performance drove reduction in net debt despite Sh4.8 billion capital expenditure in the period.
"Growth was broad-based across segments and regions, as the business benefited from lapping a weak half following the presidential election in Kenya," the firm said.
Group Finance and Strategy Director Gyorgy Geiszl said the firm had a Sh1.2 billion production savings in the period.
Kenya and Uganda both saw net sales increase by 12 per cent while Tanzania reported the biggest increase at up 26 per cent in the period.
Increased consumption of Senator Keg, the low-end sorghum brew, helped the beer segment grow by 12 per cent.
Keg was up 35 per cent as a result of increased distribution, commercial initiatives as well as the rejuvenation through national campaigns.