KBL launches pineapple flavoured varient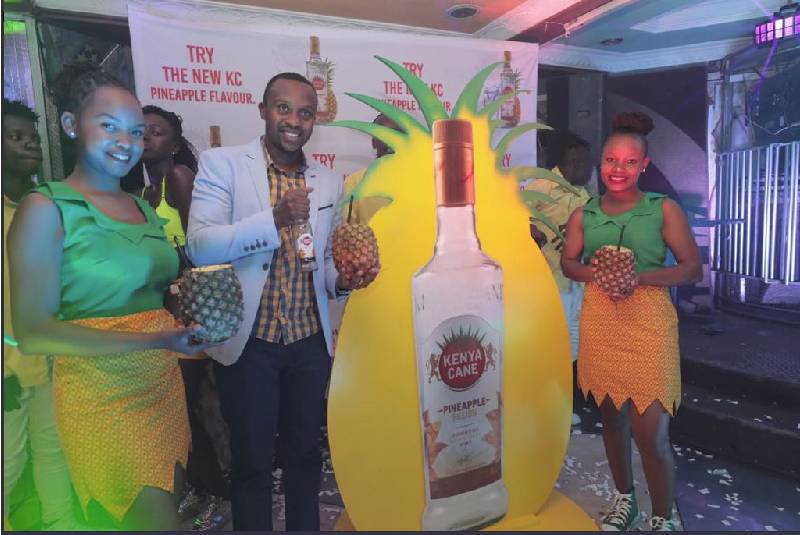 Kenya Breweries Limited (KBL) has launched a new variant of Kenya Cane popularly known as KC as the firm seeks to stump its authority in the spirits market share in the country and increase revenue stream.
Kenya Cane Pineapple will join an established list of other successful variants, among them KC Smooth, KC Coconut and KC Citrus.
The new variant is inspired by the tropical blend of cane spirit and pineapple. It delivers perfectly balanced aromas of freshly-cut pineapple, with a silky-smooth, succulent taste.
Kenya Cane, the original cane spirit, has been part of the Kenya's drink culture since 1976 when it was first launched.
It commands a strong market share as the leading spirit in the country. Kenya Cane Pineapple contains 40% alcohol by volume, just like the other KC variants.
It will retail at Sh250 for the 250ml and Sh670 for the 750ml. The new brand will be available for sale in bars, supermarkets, liquor stores and online shopping platforms.
The competition for the spirits market in the country has been in the increase as various companies launch new brands in a bid to have a competitive advantage against their rivals.
Speaking during the launch, KBL Senior Innovations Manager Victor Kagema noted that Kenya Cane is a dynamic brand that changes with the times to deliver against changing consumers' needs.
He said it is for this reason that they are continuously introducing new flavours into their portfolio in response to varied consumer tastes and preferences.
"As KBL, we are delighted to be welcoming Kenya Cane Pineapple to the Kenya Cane family and will continue to innovate with flavors that appeal and resonate with our consumers," Mr Kagema said.
He added the company was determined to see the new product helps Kenya Cane portfolio maintain its status as leader in the market.
With a view of supporting entrepreneurship, the brand is currently running a national consumer promotion dubbed "Shangilia Hustle Ya Kenya" which is rewarding consumers with Sh 100,000 capital injection into their businesses.