Better days ahead for farmers of pyrethrum, officials declare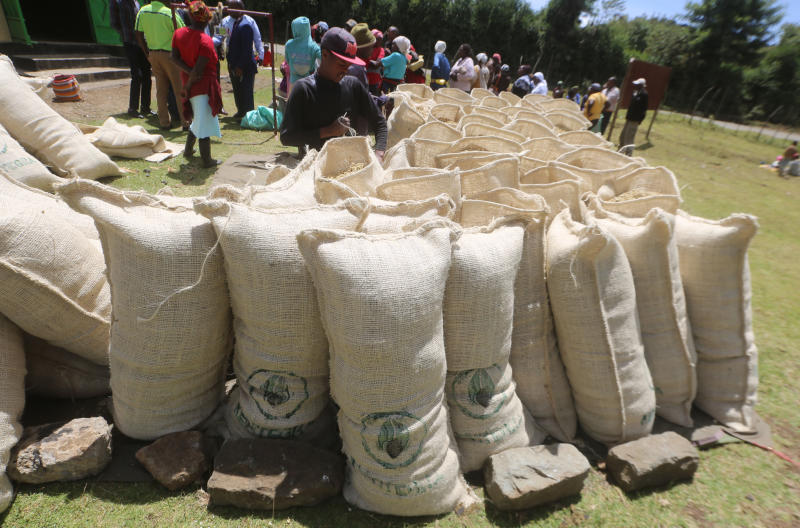 The pyrethrum sub-sector will soon be back on its feet, according to an American biotechnology company that has contracted 2,200 farmers in Kenya.
Kentegra's Chief Operating Officer Scott Sweat yesterday said ongoing efforts to revive pyrethrum have started paying off with increased production over the past few months.
"Today, we have received over two tonnes of dry flowers which a remarkable milestone from zero last year when we first distributed seedlings. The production is promising and we are committed to offer more support to farmers," said Mr Sweat who spoke after a meeting with Agriculture executive Immaculate Maina.
The company started its Kenyan operations after signing a Sh400 million investment deal with President Uhuru kenyatta during his tour of the US last August.
Construction of its laboratory in Nairobi where pyrethrum will be tested is ongoing. Farmers with high quality pyrethrum will get better pay, according to Sweat.
"We are glad the lab will soon be complete to the benefit of farmers. The current flat rate of Sh200 per kilogramme will increase as we continue to produce higher quality produce," said Dr Maina.
In the 1990s, Kenyan pyrethrum was ranked the best in the world before the sub-sector was run down.
Kentegra has contracted farmers farmers in Eburru, Molo and Kuresoi in Nakuru County, majority of whom are small holder farmers.
Maina lauded the company's contribution to revival of pyrethrum saying the lives of farmers are already being transformed.
"For the two tonnes that have been delivered by a few farmers in October, a total of Sh400,000 will be paid. As the acreage under pyrethrum and production continues to rise, millions of shillings will be put into the pockets of farmers," said Maina.
She also said the dispute of leasing of steam powered driers owned by a Eburru Farmers Cooperative Society has been resolved and all farmers will not be able to use it to dry their flowers.
Some farmers had complained that they had been denied access to the facility with a capacity to dry up to five tonnes in two days.
Drying of pyrethrum flowers has been a challenge to many farmers due to lack of facilities with stringent moisture content of dry flowers by pyrethrum processing companies.
"The driers have been reverted back to the public. The Geothermal Development Company has pledged to refurbish the three driers which were constructed by white settlers in 1935. We shall also help farmers acquire modern sun driers," said Maina.
Count assembly Agriculture Committee chairman Wilson Mwangi said his team will lobyy for increased allocation of funds to ongoing efforts to revive pyrethrum production.
"In the current financial year, the county government allocated Sh15 million towards these efforts. Part of the money came through incentives such as provision of seedlings. We aiming at increasing the allocation to Sh50 million in the next financial year," said the Menengai East MCA.