Kakamega farmers turn cane land into sand mines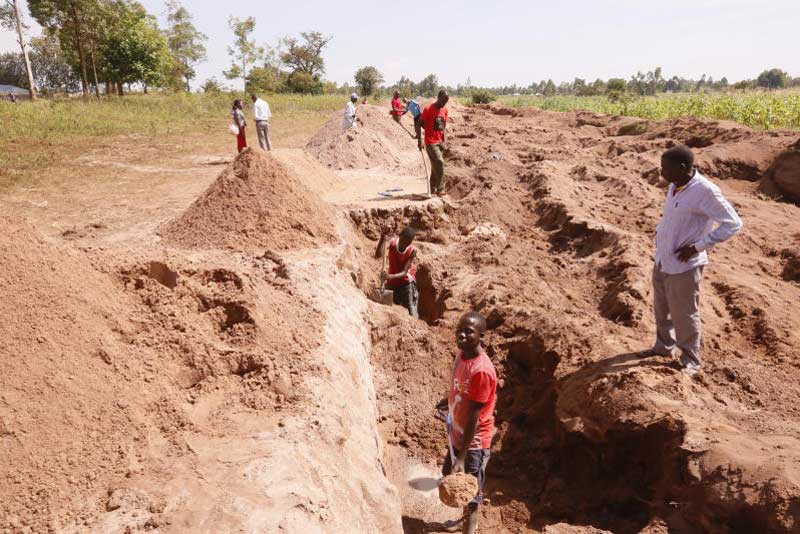 The booming construction industry has pushed the demand for sand to record levels, putting pressure on agricultural land.
Uncontrolled harvesting in riverbeds has depleted sand deposits and miners are now invading farms.
In Matungu sub-county, cane farmers have turned land into sand harvesting fields leaving acres destroyed.
A number of trucks roar into Nabunulu village in Matungu everyday, and minutes later speed off loaded with tonnes of sand that end up in construction sites.
The activity has left hundreds of farmers struggling to earn a living from tiny parcels of land.
While most local farmers say sand extraction harms livelihoods, Matias Maroko, a local land owner, is making money from it.
"I have 64 acres but I have set aside a portion of it for sand harvesting. The sand was tested in Kakamega and found to be good for construction of houses. I have no problem with sand miners since they are trying to earn a living," said Maroko.
The 68-year-old from Nabunulu village says he abandoned cane farming and ventured into sand harvesting because of poor returns.
"I used to plant cane on 18 acres of land but I uprooted it following the collapse of Mumias Sugar. I was not getting any money and yet they were also deducting monthly levy. Mumias Sugar owes me Sh365,000," he said.
Defer learning
He said his children had to defer learning for one year for lack of fees.
"I was forced to look for another option, which would help me make money. Since I have a farm that has good sand, I decided to start harvesting it," he explained.
Problems the sand harvesters face include extortion from middlemen, low payment, longer time to get clients, especially during rainy seasons, and even infections due to lack of protective gear.
"A lorry of sand goes for Sh1,500 in Kakamega while in Bungoma it fetches between Sh6,000 and Sh9,000. You also have to pay the sand harvester at least Sh3,000 per lorry," he said.
Maroko said sand harvesting was not for the faint-hearted because it involved going deep and enduring the cold to get the finest sand that will be readily accepted by buyers.
He said many people were getting into the risky job because the leaders did not care about them.
Vincent Musundi, another resident, said he earned a living from sand harvesting and even if the Government told them to go back to cane farming, he would not.