Murang'a is the most corrupt county in Kenya - report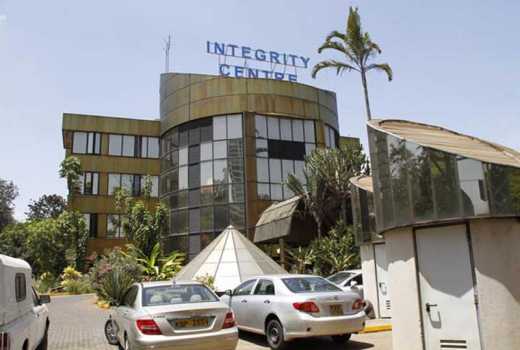 Murang'a is the most corrupt county in Kenya, according to a new report.
The Ethics and Anti-Corruption Commission (EACC) in a survey conducted before last year's General Election ranked counties by proportion of those who paid bribes.
The survey dubbed, National Ethics and Corruption Survey 2016, shows that 90.7 per cent of the respondents said they had parted with a bribe in Muranga County.
Trans Nzoia, Mandera and Kirinyaga counties followed at 84, 79.4 and 78.9 per cent respectively, with reasons cited for the bribe being demand for it, to avoid service delay and because it was expected.
Other regions where respondents said they had been asked for bribes were Marsabit (78.2 per cent) followed by Tharaka Nithi, Meru, Laikipia, Machakos, Nyandarua, Kilifi, Migori, Kisii, Elgeyo Marakwet, Kwale and Wajir counties.
On the other hand, Lamu was ranked the least corrupt; where respondents were reluctant to pay bribes. The other counties where corruption is minimal are Taita Taveta (8.3 per cent), Tana River (12.10 per cent) and Kericho.
The report was released yesterday. At least 6,000 households were surveyed.
Ministry of Interior and Coordination of National Government was ranked as the most corrupt state department.
The ministry, at 45.9 per cent, was ranked highest by respondents as the one most prone to corruption followed by Ministry of Health at 33 per cent.
Devolution and Planning ministry was rated at 19.3 per cent, Education, Science and Technology 19.2 per cent, Transport and Infrastructure 15.5 per cent, Land, Housing and Urban Development 15.1 per cent and Treasury 8.3 per cent.
The Kenya Police Service topped Government agencies and departments perceived to be most prone to corruption. The corruption index at the traffic police department stands at 29 per cent.
Graft at the National Government Administration Office, formerly Provincial Administration, stood at 22.8 per cent and 9.7 per cent at public hospitals.
Over 87 per cent of the respondents indicated that corruption permeates all sectors of the Kenyan economy.
Comparatively, 63.4 per cent of the respondents think that corruption has been increasing in Kenya in the past one year which is 13 percentage points higher than in the 2015 Survey.
Over 45 percent of the respondents expect the level of corruption in the country to be high in the next one year while 15.3 per cent expect low levels of corruption, the report says.
Steep increase
The report says overall, the average number of times a bribe is demanded nationally increased to 1.66 times from 1.56 in the 2015 Survey though lower than the average of 1.93 in 2012.
The average bribe is Sh7,081.05, a steep increase from the average of Sh5,648.58 recorded in the 2015 survey.
The report says the proportion of those paying bribes increased by 8 percent in 2016 to stand at 46 per cent compared to 38 per cent in the 2015 survey.
"A culture change is a must if the fight against corruption is to succeed. Political leaders should demonstrate credible intent to tackle corruption and unethical conduct," EACC said.
The report says that county health services at 37.4 percent are perceived to be very prone to corruption followed by County public works and services at 22.5 percent and Education and Child care at 15.4 per cent.
Delays in service delivery, bribery, conflict of interest, discrimination and criminal activities such as fraud, theft and embezzlement were rated as the most common forms of unethical conduct in the country.
Abuse of office
Those seeking Government services increased by 5.1 percentage points to stand at 63.6 per cent in the past 12 months compared to 58 per cent in 2015.
According to the survey 42 per cent of the respondents experienced some form of corruption being practised by public officers. Bribery at 83.7 per cent was widely observed by respondents followed by favouritism, delays in service delivery, abuse of office and fraud.
The report recommends the establishment of a working framework that brings together the civil society, the media and Government agencies with similar mandate to focus on education and sensitisation of the public on ethics, integrity and anti-corruption as a priority to enlist their support.
It further says EACC and other players should undertake voter education to sensitise the masses on the importance of electing ?leaders with integrity and put systems to enhance corruption detection.