How rich and poor coexist in Nairobi estates
NAIROBI, KENYA: A low concrete wall is all that divides posh Lang'ata and the expansive Kibera slum, a settlement of tin shacks.
In many other areas, the only boundary is an imaginary one that seems to exist only in the minds of residents from both sides.
Indeed Kenya is a country of confounding contrasts and nowhere is this division between the wealthy and the impoverished better illustrated than in the capital, Nairobi City.
The good news is that both the rich and those from the slums have learnt to live symbiotically. They seems to need each other every passing day.
Runda, where many residents live in affluence, has less fortunate neighbours just next door — Githogoro and Huruma slums.
Daniel Methu, the general manager of Runda Water Company and member of this posh estate's residents' association admits Runda cannot do without their neighbours from the two slums.
"Though a challenge, we cannot do much without them. They are our source of affordable labour as gardeners, cooks, drivers, and house helps," says Mutheu.
To show appreciation, Mutheu says, Runda resident support the slum dwellers in a number of ways. For instance, Runda residents have supported the slum's Chereta Primary School with learning material, besides sponsoring bright students up to university level.
"As an association, we appreciate them. We support their welfare by organising medical camps and education. One of our beneficiary is now a lawyer, the other is in medical school and a lady pursuing Bachelor of Education is a student at Kenyatta University," he says.
Methu says that though they don't have ways of controlling who resides in the two slums, they have to make them feel loved. That is despite the fact that at times, their neighbours are a security threat — and there are instances where home break-ins and stolen items have been traced to the slums.
On the main road cutting through Runda's 600-acre land that is home to 1,200 households, the association has put water taps for slum inhabitants passing through or seeking casual work there to quench their thirst.
The dalliance is confirmed by Benson Biwott, a boda boda rider who resides in Githogoro slums and ekes out a living running errands in Runda which is home to diplomats, expatriates, powerful politicians, high-profile professionals and billionaires.
"They have our details, and plans are underway to have us registered and bear plate numbers which they intend to produce," says Biwott.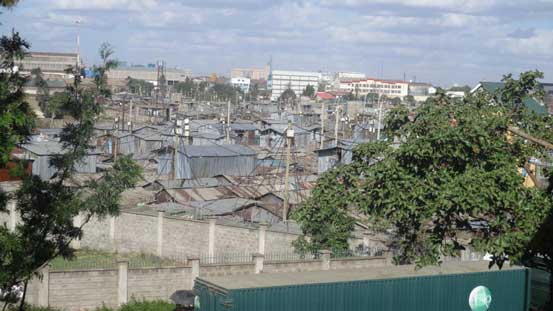 But in the affluent Karen estate, it is a different story. Theirs can be compared with that of a divorced couple.
Kuwinda, Kataka and Kalinde slums neighbour Karen, but the high-end residents keep off them. The cold relationship is largely because the slum dwellers live on private land and have refused to vacate.
Karen Lang'ata District Association communications manager Rose Karobia says that many residents in Karen own expansive lands and have accommodations for their domestic workers, some have been with such families for 40 years.
"They house even gardeners, cooks and house helps. Constant hiring of domestic workers does not happen a lot here and those who want to employ receive recommendations from workers employed in their friends' homes," says Karobia.
She noted that the area is easily accessible, thus many prefer to detach themselves from the slums.
"The relationship is bad. For instance, many contractors prefer to come with their casual labourers instead of sourcing from the neighbourhood," says Karobia, adding: "But in time of need, we chip in. A case in point was the fire tragedy that hit Kuwinda slum not long ago".
This love-hate relationship also paid out when Kijiji slums in Lang'ata went up in flames on January 28. The 'cold war' between Karen and its neighbours; Rubia estate, Onyonka estate, Civil Servants estate, Southland estate and privately-owned Park 1 & 2 estates was evident.
One Jackline Kimeto expressed her joy saying; "All Lang'ata residents have been trying to get rid of this Kijiji slum for years. It grew in the middle of estates from nowhere, enhancing crime and drugs which have affected Lang'ata children. I say let it burn down and the area be fenced off."
Residents in Southlands and Park Estate opined that the slum was to blame for crime, alcoholism and drugs prevalent there.
"Our children have become addicts of cheap liquor because of this slum. We have never liked them here. They also make this neighbourhood ugly and inhabitable," a resident said.
However, the slum leader Joseph Karanja accuses their neighbours of ills in the neighbourhood, saying they should admit their survival has positively been influenced by the existence of the slum.
"They get plumbers, electricians, carpenters and house helps from Kijiji. Where can they get somebody to do a week-long laundry for Sh300 or less? Even if we differ in class, they should appreciate the symbiotic side of our presence," says Karanja.
Michael Gikonyo who has resided there for over three decades says theirs is a see-saw love. "One time they are accusing us of all problems here, the next day they seek our services including cheap alcohol. But we live like a family and after this tragedy, some were very helpful," he says.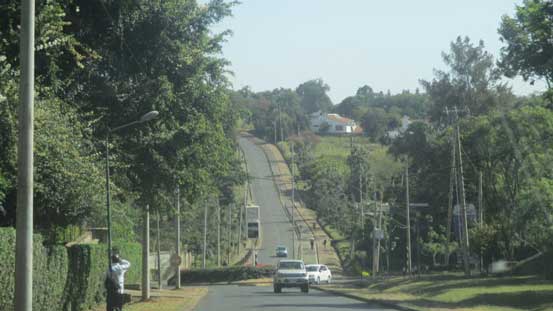 Down to the Ngong river is South B estate whose residents believe there is not much they can get from neighbouring Mukuru slums.
"All we get is cheap fish, clothes, vegetable and mandazi. Mukuru slum is different from Kibera and those neighbouring affluent suburbs. Mukuru is too much adulterated," a resident said.
Andrew Mukabi a resident blames the slum for the fall of South B shopping centre and the estate's façade.
"We don't trust them with any work. If you hire a house help she will steal your items or plot with thugs to break into your house. Before Mariakani estate was fenced off, they took away wet clothes on the line in broad daylight," says Mukabi.
He adds: "Our children have learnt to chase away their children. We rarely share pubs and our house helps come from Kibera. South B and Mukuru slums have an icy relationship," Mukabi says.