Midiwo in another attempt to cut Safaricom's stranglehold in telco market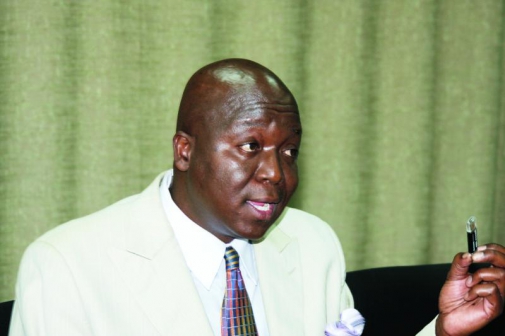 Leading communications service provider Safaricom could be spilt into several smaller entities following a new push by Parliament to break the firm's lead in the financial sector.
National Assembly Deputy Minority Leader Jakoyo Midiwo (Gem) is seeking an amendment to the Kenya Information and Communications Act (1998) to have telecommunication companies separate their businesses along lines of service provision.
This will see operators forced to split along several lines including voice carriers, data and Internet service providers and mobile money transfer companies each with separate company accounts and management.
The amendment is contained in the omnibus Statute Law (Miscellaneous) Bill that is currently in the third reading.
"Telecommunication companies will have to be split into their different business platforms," explains Midiwo. "You can't offer mobile phone services, money transfer and mobile banking at the same time since there are considerations of fair competition and job losses we have to make as legislators."
Insurance sector
Midiwo further explained that telecommunication service providers intending to engage in financial services will have to obtain a fresh licence from the Central Bank of Kenya and be subject under regulation from the same institution.
"The changes will require mobile service providers to split, or separate telecommunications business such as mobile telephone business from other services such as mobile money transfer, transport, healthcare, banking etc.," reads the proposed amendments in part.
Midiwo further cites similar developments in the insurance sector where new regulations compelled insurance firms to separate their operations into general and life business.
If the amendments go through, Safaricom will most likely lose its crown jewel M-Pesa which will become a stand-alone entity. This is not the first time members of Parliament are debating splitting East Africa's most profitable company into separate entities.
In late 2015, the then Cabinet Secretary in the Ministry of Information, Communications and Technology (ICT) Dr Fred Matiang'i presented a similar proposal to the National Assembly by tabling a Bill to declare the firm dominant.
Attorney General Githu Muigai later removed the Bill from the House stating that his office had not been consulted in drafting it.
The Standard on Sunday has reliably learnt that the fresh bid is facing opposition from Treasury officials who boycotted a meeting with Solicitor General Njee Muturi to discuss the issue.
Formed in 1997 out of a subsidiary of State-owned Telkom Kenya, Safaricom has grown in the last 20 years to be the most profitable firm in the region. In 2008, the firm offloaded 25 per cent of its stock at the Nairobi Securities Exchange (NSE).
The landmark initial public offering came in the middle of an economic slump that followed violence triggered by the 2007 poll, but was oversubscribed by 532 per cent.
Propelled by the phenomenal success of M-Pesa, the growth of Safaricom has been phenomenal while its rivals struggle to make profits.
Recent reports indicated that Airtel was planning to exit the Kenyan market due to the competitive business operating environment. France's Orange sold its 70 per cent stake in Telkom Kenya to Helios while Yu mobile folded after it failed to capture the market. The mobile operator was bought out by its rivals Safaricom and Airtel Kenya.
In his submissions, Midiwo claims Safaricom has partnered with commercial banks to offer loans with high interest rates to low income earners.
"Over 50 per cent of the jobs lost under the Jubilee administration is in the banking sector. Safaricom money transfer and withdrawals have taken over the bankers' jobs through mobile banking. It's only right to say that two bankers having mobile business partnership with Safaricom are a bit safe," said Midiwo.
He explained, "Let's be honest, banks are complaining over dwindling business. We need to guarantee jobs to our people. Many banks are folding and this is not good for our economy."
Midiwo further argues that the proposals will encourage innovation in the market.
Midiwo is optimistic that these proposals will also ensure all platforms will be used. He said that no company or business registered to offer communication or telephony services should engage in financial service business.
He stressed, "For the avoidance of doubt, every financial institution offering mobile banking shall permit interchangeability and use of its services by a person who wishes to access the services." The amendments further require the industry regulator Communications Authority of Kenya (CA) to give an industry report to Parliament six months after the laws have been enacted and annually thereafter.
Firms that fail to comply will face penalties, including a maximum fine of Sh10 million, and revocation of business licences. Company executives will also face a two-year jail term if their companies fail to comply.
Phones to pay for goods
"The proposed amendment will allow subscribers to be notified of any charge relating to their subscription to any premium rate service," reads the Bill.
Kenya's ability to turn technology to commercial use is better illustrated in mobile banking. Subscribers use their phones to pay for goods and bills, make deposits and withdraw cash from agents, buy insurance and send money to relatives.
A CBK report on the value of transactions carried out through mobile phones indicates a growth of 24.7 per cent where it rose to Sh2.4 trillion in 2014, compared to Sh1.9 trillion in 2013.
The rise was attributed to the use of this payment platform by traders and individuals who prefer it for its convenience, cost-effectiveness and security.