Kenya, Ghana push for African trade market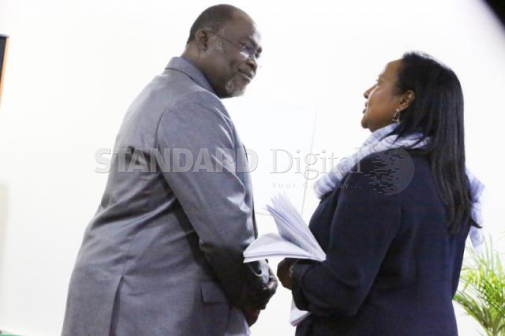 Kenya and Ghana are pushing for the formation of an African company that would provide a continental market for goods and services to promote trade among the 50 countries of the African Union.
The structure of the enterprise, to be named Pan African Trade Hub System (Paths), will be modelled along the Africa Development Bank, and registered in Kenya, Ghana, Mauritius and Tunisia.
It is projected to be operational by 2017.
Such a market could have huge implications for the volume of transactions between African countries and developed nations, which they now accuse of unfair trade practices.
Critically important
Kenya's Foreign Affairs Cabinet Secretary Amina Mohammed said the planned business venture would replace the ongoing multilateral negotiations, which hardly ever address the real problems of citizens and businesses.
"This is critically important for Kenya and Ghana and the whole of Africa," she said, while sharing her frustrations with the multilateral trade negotiations.
Overlapping memberships to different trade blocs has created unnecessary barriers to trade, even among neighbours such as Kenya and Tanzania — which belongs to both the East Africa Community and Southern Africa Development Community.
Ms Mohamed said her ministry and her Ghanaian counterpart's were hoping to present the agenda of setting up Paths in January during the half-yearly meeting of African presidents held in Addis Ababa, Ethiopia.
The continental market is envisaged to help individuals and businesses transact directly with one another, and effectively eliminate the longer routes to market through Europe for commodities like coffee, which is produced in East Africa, or the cocoa grown in West Africa.
Elusive goal
In the current scenario, multinationals produce or buy the raw commodities in Africa before processing and selling them back to the various countries in the continent.
"It is something that African and Kenyan businesses should know about because it should catapult our trade relations across the continent," said Mohammed.
Ghanaian Trade Minister Ekwow Spio-Garbrah first came up with the draft structure, and said several countries around the continent had approved of the proposed marketplace.
"There are private equity funds that are ready to invest in this venture," he said.
Paths has been conceived as a public-private partnership, and has the support of the AU, the continent's respective chambers of commerce and industry, and private investors.
Enhancing intra-African trade volumes has remained an elusive goal, with several past attempts to establish a continental customs union hitting a wall.
Differences in language, customs and currencies have prevented integration and placed barriers in continental trade.
Kenya and Ghana project that the envisaged marketplace will increase the free movement of goods and services across borders and grow intra-African trade from 15 per cent to at least 50 per cent in 20 years.
It should also help enhance Africa's proportion of world trade from the current 2 per cent to 10 per cent in 20 years.