Turbulent times as IATA threatens to deregister travel agencies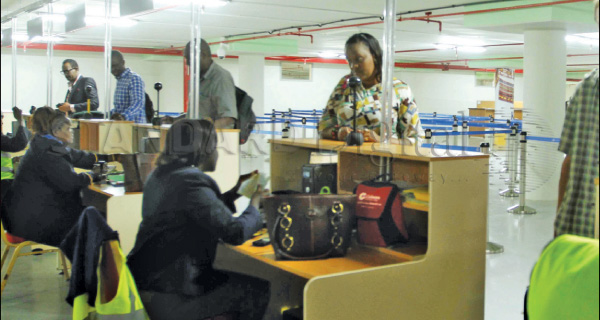 Booking officers attend to travellers. A battle is shaping up between travel agents and IATA over unpaid fees. [PHOTO: FILE/STANDARD]
By NICHOLAS WAITATHU
Nairobi, Kenya: The local airline industry is facing a stormy future as the International Air Transport Association (IATA) threatens to cancel licences of 10 leading travel agencies over non-payment of proceeds from ticket sales.
Travel agents remit proceeds of tickets sold every month to IATA minus a one per cent commission earned through an international payment system - the Billing and Settlement Plan (BSP).
The system facilitates the selling, reporting and remitting procedures of IATA Accredited Passenger Sales Agents, and helps improve financial control and cash flow for BSP Airlines.
It is, however, emerging that the travel agents are yet to remit up to Sh500 million from ticket sales for the period between September 17 and October 17, 2013.
LONG OVERDUE
According to Jackline Kimetto, the chief executive of the Kenya Association of Travel Agents (KATA), they are required to settle their bills by 17th of every month.
"We have not been able to meet this deadline over the last month because our biggest client — the Government — is yet to pay arrears in travel costs amounting to over Sh500 million," Kimetto said, warning that the effect may be catastrophic for businesses because defaulting agencies could be suspended from conducting business for up to 30 days.
Travel agencies control 80 per cent of all air travel bookings with airlines and online bookings account for only 20 per cent.
While IATA country manager Hassim Pondor denied any such stalemate, the African Airlines Association (AFRAA) is now warning that effects of a cancellation of the licences will orchestrate a crisis in the air travel industry and reverberate beyond travel agencies.
AFRAA Director in Charge of Commercial, Corporate and Industry Affairs Raphael Kuuchi said besides driving the firms out of business, such a move will further strain airlines as they take on the extra responsibility of managing direct bookings.
"Airlines will suffer congestion in their offices as people physically queue to buy tickets," Kuuchi said, adding that the online option can only serve a few people who have access and knowledge of how the platform works.
"Let us brace ourselves for an industry crisis including frequent flight delays and cancellations if IATA goes ahead to make good their threat," he said.
Government is a major client of local travel agencies due to regular flights by officials to various destinations on State duty.
National Treasury Cabinet Secretary Henry Rotich placed the responsibility to settle agencies at the door of individual ministries and other State agencies.
"Our role as Treasury stops at financing the ministries who then make their own budget to fund their activities," Rotich said in a telephone conversation.
"So we cannot explain how ministries have not cleared their bills with the travel agents or any other suppliers."
According to a manager of one of the affected travel agencies, some of the biggest debtors in Government include Office of the president (OP), Office of the Deputy President, Foreign Affairs, and Environment, Water and Natural Resources.