Samsung, DStv Kenya Launch "Deal Supuu" Consumer Promotion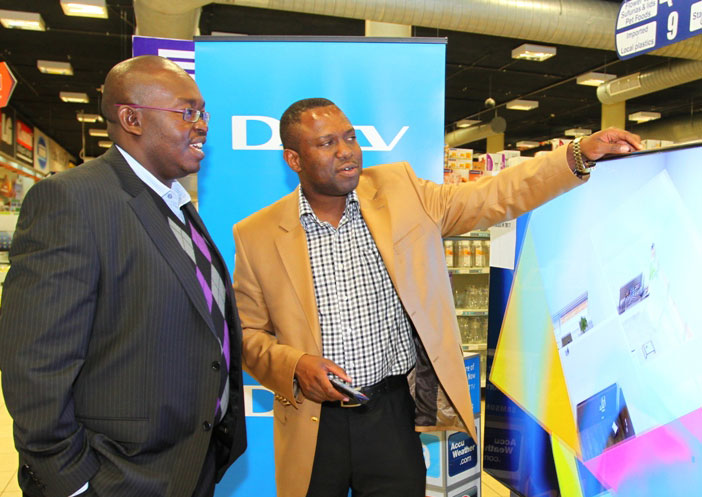 Samsung Electronics General Manager, Allan Oyier explains the feature of the Samsung 75-inch Smart TV to MultiChoice Kenya General Manager, Danny Mucira when they launched a bundled TV promotion at Nakumatt Westgate.
By Irine Majale
Samsung and DStV Kenya launched a promotion dubbed "Deal Supuu" for its consumers. The promotion similar to an ealier promotion which ran in February this year is back due to public demand.
Consumers will be able to get either a High Definition (HD) decoder or DSTV decoder for every purchase of a television set.
In the promotion, a consumer qualifies for a free decoder, 1 month free subscription and free installation with every purchase of select Samsung TV models at any Nakumatt outlet countrywide.
Speaking during the official launch of the promotion, Samsung General Manager, Consumer Electronics, Allan Oyier lauded the second phase of the partnership as a win-win between two leading brands and the consumer.
"We have ceded to our customers request to re-introduce the promotion and urge them to take advantage of the offer while stocks last. All a consumer needs to do is to buy a Samsung TV from as low as KShs. 59,995/- and get a free DStv decoder and one month subscription," he said. The promo commenced this week and will be limited to availability of stocks.
On his part, MultiChoice Kenya General Manager, Danny Mucira expounded on the benefits of digital migration that Kenyans are currently embracing in droves.
"By embracing this deal, consumers will be able to enjoy DStv which offers world-class entertainment in line with the best digital pay television platforms worldwide," he said.
The offer applies to all Samsung TVs E Series Models
Forum to discuss ICT in schools
The Kenya Information and Communication Technology Trust Fund has organized second education conference on eLearning ahead of government's laptop project roll out.