How Chinese guru rode Kenya's property wave to make billions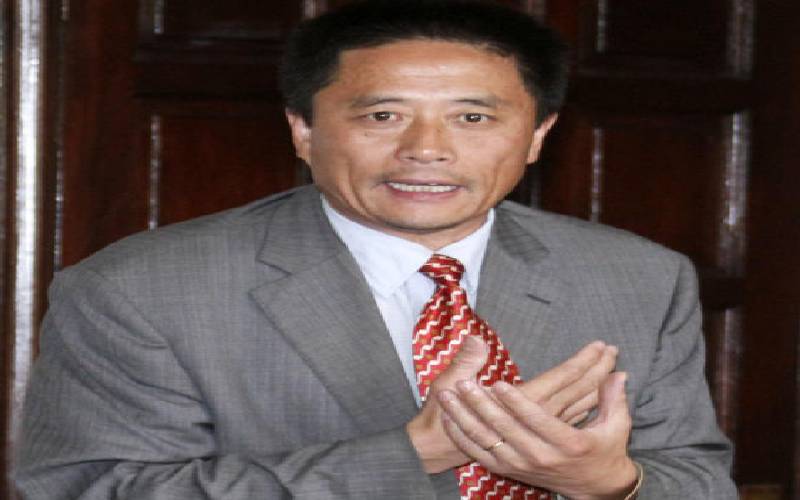 John Zeyun Yang (
pictured),
the Chinese national at the centre of a Bribery scandal involving a Kisumu mall, has lived through Kenya's best period yet for the housing market. And from it, he has made a fortune.
Before he was arrested last Friday from his offices in Nairobi's Central Business District, few could identify the quiet man who is constructing the highest number of private-funded homes, estimated at 7,000 units after completion of ongoing projects.
Before him, the United States Agency for International Development-funded Umoja Estate, built in the late 1980s and comprising 4,400 units, was the biggest singular housing project.
Detectives who arrested Mr Yang arrived at his Finance House offices posing as potential clients who wanted audience with him, only to pounce once they were let in.
Insiders told The Standard Yang did not anticipate arrest, and had even asked his personal assistant to negotiate with the detectives to forestall any attempts to cuff him.
He would subsequently spend the weekend in police cells as tens of other suspects in the Sh4.1 billion Kisumu mall scam were being sought before being arraigned yesterday morning.
Yang's company, Erdemann Property Ltd, was contracted to build the mall in March 2013 – just 10 days after the General Election, at Sh2.5 billion before the cost was inflated to cover the kickbacks paid to officials, according to the prosecution.
Yang's prosecution could mark the lowest point in the life of the serial property developer involved in several court battles, including a prolonged one with his neighbour in Athi River, London Distillers Ltd.
Greatwall Gardens, Erdemann's signature residential project, is accusing the distiller of disposing waste in the wrong manner, leading to emissions and a pungent smell in the area.
Survived demolition
He is also smarting from another scare after his Seefar Apartments survived demolition. Erdemann was accused of constructing the units on Nairobi Dam and obstructing the course of a river.
For this property of 288 units, which have since been purchased by different individuals, Erdemann is locked in a court battle with Nairobi County, and demanding Sh200 million that was spent to rebuild the walls of the dam.
Further, Yang's firm is putting up 2,720 units just within the city centre, on the banks of Nairobi River in Ngara, that will rise 34 floors in the highest-density residential development in the country.
In Yang's projections, his firm would be delivering 2,000 housing units a year. However, it is unclear what implications the ongoing court cases will have, especially considering Erdemann is among firms expected to help deliver President Uhuru Kenyatta's affordable housing dream.
Yang started out as a developer 22 years ago, a time when the property market was hugely depressed, partly because of sky-high interest rates that saw many borrowers lose homes over an inability to service their mortgages.
But with the reforms in the financial sector over the years, the property market became among the biggest beneficiaries, and created the newest billionaires in town, including Yang.
Various studies on the property market have shown that it was the best investment since 2000 year-on-year, delivering over a 20 per cent profits return, which is more than twice as lucrative as lending to the Government.
HassConsult, a real estate consultancy, estimates property values have appreciated two-and-half times since 2007 when it started tracking the market.
Developers like Yang made the most of the housing boom, which is now thought to be cooling off, helped along by an unwillingness by banks to give loans after interest rates were capped three years ago.