Gideon and Chinese envoy Zhou hold talks on increasing exports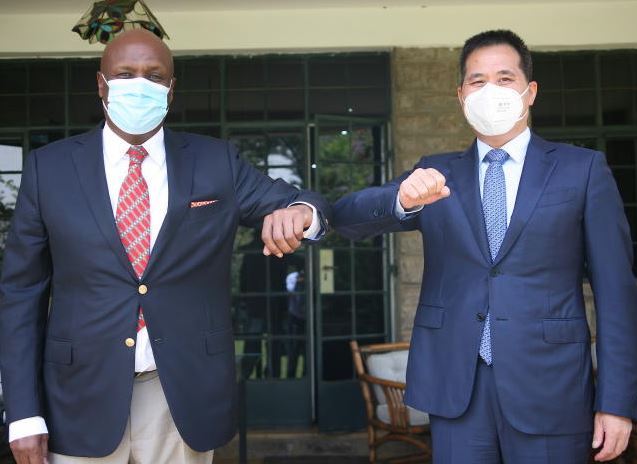 Kanu chair Gideon Moi yesterday met Chinese ambassador to Kenya Zhou Pingjian to explore ways of deepening exports to the Asian tiger, which is the biggest market in the world.
While receiving Pingjian, the Kanu boss who is also the Baringo Senator explained: "We talked about Tourism, ICT sector, and trade. One of the aspects we talked about is how we can penetrate the China market which is the largest in the world. Our relationship with Communist People's Party is very cordial. We hope to strengthen this in the coming days."
Trade between the two countries presently favours China with Kenyan imports valued at approximately Sh390 billion annually against Sh11 billion exports.
In April 2019, president Uhuru Kenyatta and Xi Jinping signed a deal allowing Kenya to export Hass avocados to China.
Coffee, specialty tea, flowers, and avocados are some of the popular farm produce from Kenya popular in the Chinese market.
Some of the leading exports to China, according to a 2019 report, were ores slag and ash, mineral fuels, oils, distillation products, raw hides and skins and leather, Lac, gums, and resins.?
The envoy said he had visited the senator, whom he described as his great friend, because he was keen to promote trade and partnerships between the two countries.
Take a quick survey and help us improve our website!
Take a survey
"There is a great friendship between the two countries, its people, Kanu and Chinese Communist Party (CCP). China and Kenya could produce more tangible results if the two countries deepen their cordial relations," said Zhou.
The envoy explained that China started venturing into the East Coast, more than 600 years ago and has always maintained cordial relations with the region and was prepared to nurture this arrangement for the benefit of citizens of the two different geographical areas.
Officers saved from eviction
The Kirinyaga County Security and Intelligence Committee has moved swiftly to save six police officers deployed at P.I. police post