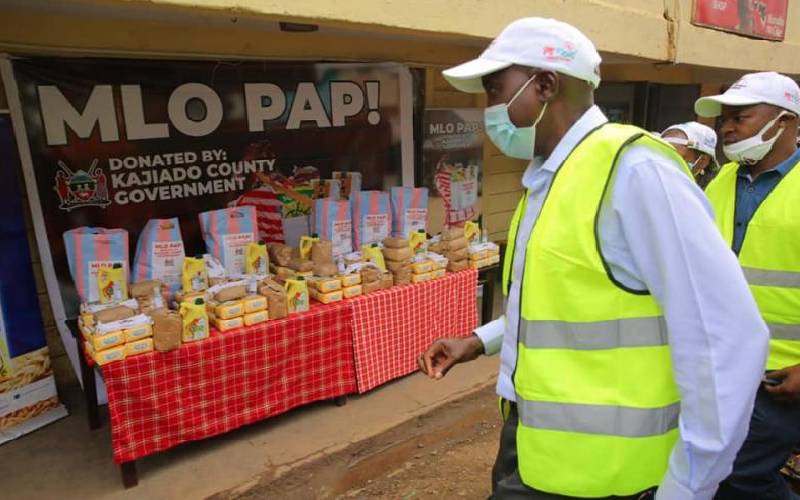 The much-publicised scramble for relief food by residents of Nairobi's Kibra slums in April shed light on the magnitude of hunger facing the low-income populations due to Covid-19 disruptions.
However, for Lorna Sempele, a Kenyan communication specialist, it was a call to find a solution to streamline the distribution of food aid.
She has found the solution in a digital innovation, M-Riziki, a mobile and web-enabled system that brings together shopkeepers, beneficiaries, and financiers.
The system, already adopted by the Kajiado County Government to distribute relief food to more than 30,000 people, was developed in less than two months.
Ms Sempele, who runs a communication consultancy agency, Empiris Creative, partnered with a software developer Joshua Nderi from Fashionnaire Corporation to come up with the innovation.
Read More
The digital innovation, which the two have already patented, facilitates beneficiaries' access to relief food. They collect the package at their own convenience and from the nearest pre-selected shop.
Information on beneficiaries identified by the financier is entered on M-Riziki and is then used to prompt the beneficiary through a short message sent to their mobile phones on where to collect the food and its cost.
Financiers deposit the money to buy the food to a bank account linked with M-Pesa. The shopkeepers are later paid through M-Pesa upon proving the dispatch with receipts.
Sempele says the dignity of the beneficiaries is safeguarded since the system excludes gatherings or queuing for the commodity.