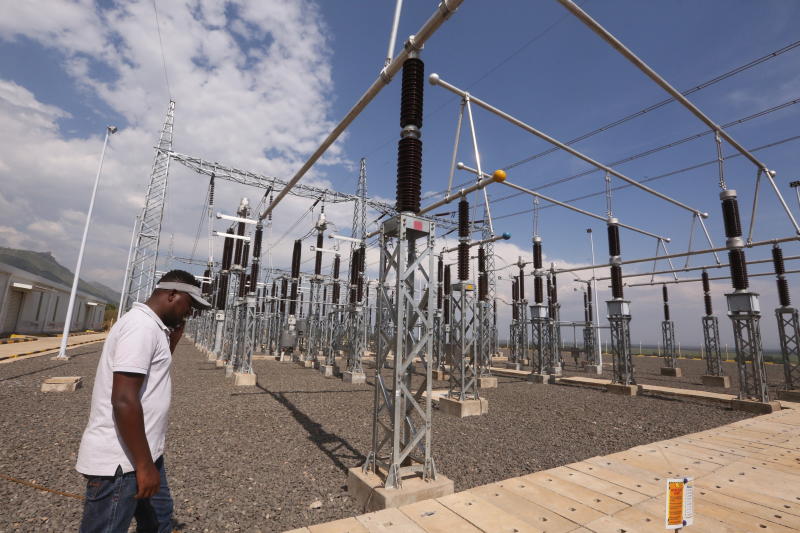 Supply of geothermal power to western Kenya will begin in April next year, Kenya Electricity Transmission Company (Ketraco) says.
Friday, Ketraco's land economist Charles Oguoko said the 220kV/ 400kV Olkaria-Lessos-Kisumu line will be completed and energised by next year, giving the region its first supply of renewable energy.
Mr Oguoko said challenges in acquiring wayleaves for the Sh18.2 billion project had been the main impediment in completing the line on time. "Lack of grids is what has denied the region cheap, efficient power," he said.
Three rings will deliver 400 kilowatts of power in Kisumu, ending perennial outages which have left industries staring at losses from having to turn to the more expensive diesel-powered generators. Oguoko spoke during a tour in which a multi-agency team led by Nyanza regional commissioner James Kianda met property and farm owners to discuss compensation.
The agency is seeking 40 to 60-metre-wide wayleaves on the 300-kilometre stretch, with the line to Lessos complete and the one to Kisumu 60 per cent done. The cost of this component of the project is Sh4 billion.
Read More
Contractors building the masts, he said are expected on site next week. To safeguard the heavy capital investments, police would guard the ongoing project. The line will pass through Timboroa forest.
He said there were no fixed rates for compensation and this would depend on the value of a property. Agricultural lands and commercial centres had different rates, he said.
Western Kenya has largely been relying on electricity from the 60-megawatt Sondu Miriu power plant and expensive gas turbine power station fueled by kerosene at Muhoroni, alongside costly imports from Uganda.
The Miriu plant, the major cheap power source in the area, is less reliable as it does not have a reservoir and only generates power during the rainy season.
Low voltages and unreliable supply have dominated discussions at Kenya Association of Manufacturers' annual meetings, with blame heaped on Kenya Power, the power distributor.
Ketraco will step down the 220Kv line from Lessos to 132Kv at its Mambole switchyard which is also under construction. This will be stepped down for distribution at the Mamboleo substation currently operated by Kenya Power.