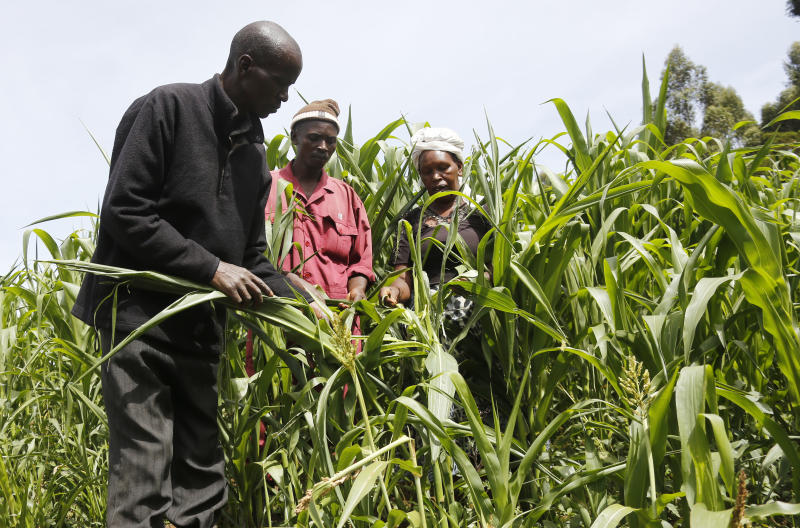 Small patches of farms dot the landscape in the Western Kenya maize growing belt, with the rich green crop at different stages of maturity.
The planting is as erratic as the rain and each farmer makes the decision to follow the first drops of rain or wait for a few weeks to be sure about its sustainability.
But as climate change becomes a reality, farmers are finding it more difficult to make the timely decision on when to plant, and many are making the wrong decisions in timing and seed varieties to use, and yields are surrendered to fate.
However, a fair share of luck has seen the maize belt survive consistent drought and analysts are now calling for studies to see how the region manages to stay relatively food secure even as the country faces a biting food crisis this year.
"Studies have always suggested that the western side produces in small scale, sells the maize and buy whenever there is a shortage. But somehow they manage which could be because of the storage," said Dennis Otieno, an agricultural economist and research fellow at Tegemeo Institute of Agricultural Policy and Development.
Read More
"They do not complain yet look at their family sizes. In Kakamega some households have up to seven people. We need to study how Western survives and replicate it in the Eastern region," he said.
Dr otieno said Eastern areas are hit whenever production falls behind and the belt is also affected by higher rates of aflatoxin than the Western region.
The Eastern Africa Grain Council (EAGC) said this year production in the eastern part of the country will be lower following the late onset of rains and cessation of rains in May.
However, in the Western part of the country, crops are expected to recover following the longer spread of the rains.
On aggregate, however, production is expected to be below average for the country.
And the effect is already telling with National Drought Management Authority warning that the number of people facing a food crisis in Kenya could reach two million in July, being the effects of a drought that hit food production and caused prices to soar.
People needing food assistance will increase from 1.6 million in May.
"The food security situation has worsened. Of the 47 counties, the most affected are Turkana, Marsabit, Baringo, Wajir, Garissa, Tana River and Isiolo," the authority said.
A report by EAGC's Regional Agriculture Trading Intelligence Network (Ratin) says the problem of a late start to the 2018/19 rainy season, along with erratic and below average precipitation could potentially delay the 2019 maize harvest in Uganda, Tanzania and Kenya, warning policy makers to prepare the region for possible shortages.
Kenya, which had a maize output of 42 million bags last year, has said it will import 12 million bags - almost double the previous year's purchase - to fill the gap which would be sufficient for the country.
Otieno, however, pointed out that even with supply available, Kenya's food security may just boil down to families' ability to buy the food in the first place.
"We have the alternatives of rice and wheat that should supplement maize so sometimes it is not just that the food is not there, it could be poverty. Maybe we need to question the government figure which claim we have reduced poverty by up to 36 per cent," he said.
The cost is further fueled by market intermediaries who take advantage of the government's bureaucratic blunders or influence by millers and importers to make a killing.
Ratin said they had anticipated Kenya to start importing ahead of time at the beginning of the year but the delay has opened up space for speculation by the market, which subsequently spiked prices to a five year high.
"If Kenya imports from the international market at the beginning of the 2019/20 marketing year materialise, the regional demand will ease as Kenya has the highest per capita consumption in East Africa and is estimated to have significant production shortfalls," said EAGC.
"However, the process to procure the commodity is yet to begin. Therefore, imports may come in later in the third quarter of the year given the long turnaround time (about two months) required to procure from the international market."
Between April and May, wholesale maize prices in Kenya rose as much as 23 per cent amid expectations of a fall in supply.
"In Kenya, prices are expected to remain elevated and will trend near the five-year average in the production markets of North Rift. In other markets, prices are expected to be higher than last year's levels," said the report.
Even with enough time and considerable warning, the government does not seem to act strategically and bungles interventions that usually pave way for corruption and cartels.
In his Budget speech, Treasury Cabinet Secretary Henry Rotich acknowledged the risk posed by the delayed rains but critics say his budgetary allocations failed to speak to the problem.
"While there are risks associated with delayed long rains which may impact negatively on agriculture, we expect such risks to be offset by continued strong performance in non-agricultural activities such as tourism and construction," he said.
Layla Liebetrau, Programme Coordinator at Route To Food, said the budget allocations to food and agriculture remain low (at 2.9 per cent), and declining (down from 3.5 per cent in 2016/2017).
Additionally, the policy orientation in favour of large-scale irrigation is neither socially inclusive nor effective towards mitigating against drought, because it does not make water available for smallholder farmers to produce food.
"We cannot expect to be better equipped to address chronic, drought-related food shortages, if we don't change the way we've been doing things in the past. The government needs to invest more in decentralised irrigation schemes that target small farms," Ms Liebetrau said.
As stocks of maize declined seasonally, millers immediately started complaining about the acute gain in prices in the production markets of Eldoret, Kitale and Nakuru.
In Nairobi, a 19 per cent increase in prices was recorded with reports indicating that supply from source markets in the North Rift was low. In addition, imports from Uganda were lower compared to previous years.
"We highly doubt there are 21 million bags of maize in the country right now. If that were the case, then we would be having this maize coming to millers because of the competitive price we are offering," an unnamed miller told a local daily.
The government then turned to its Strategic Grain Reserve and cereals board whose officials were last year implicated in a multi-billion-shilling scandal that rocked the purchase of maize from Kenyan farmers.
Irregular purchase
Then Agriculture Principal Secretary Richard Lesiyampe was charged alongside former National Cereals and Produce Board Managing Director Newton Terer and General Manager Cornel Kiprotich over irregular purchase of maize amounting to Sh5.6 billion.
And it did not take long for a new scandal to blow open when Peter Kuguru, the chairperson of the United Grain Millers Association, wrote a letter claiming that members of a rival group, Grain Mill Owners Association, who bought the State's maize at Sh2,300 per bag against the prevailing market price of Sh3,300, wanted to sell that grain at market rate.
Agriculture PS Hamadi Boga stopped the release of the maize. Grain Mill Owners Association then warned of a looming crisis, saying the ministry was holding Sh1 billion of their money.
The millers said they did not have money to buy maize from the market after being frozen out by the Strategic Grain Reserve. They now claim they will run out of stock in a matter of days, spiking prices for consumers while livestock farmers will also be hit hard by the expected rise in the cost of animal feeds.
Even as the pockets of the country's poorest are raided and the plates of the vulnerable stay empty, the economy is also expected to take a hit.
Central Bank Governor Patrick Njoroge warned the drought may curb this year's economic growth to 5.9 per cent compared with earlier forecasts of 6.3 per cent.
Kenya's economy expanded in 2018 as good rains boosted the agriculture sector, but a delayed start this year could knock as much as 0.4 per cent off forecast growth, he said.