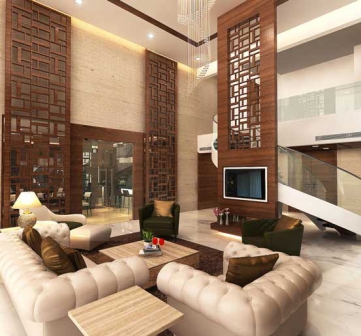 The Kenyan hospitality industry has in recent times witnessed a flurry of construction activity as traditional hotels try to reclaim their position in the wake of stiff competition from global brands.
Some of the hotels that have operated in Kenya for decades are splashing billions in a move that means more than just the replacement of furniture and mattresses. The works range from expansion and refurbishment of existing facilities to the construction of new facilities adjacent to current ones or in separate sites.
Recently, Crowne Plaza in Upper Hill, Nairobi, opened a 15-floor mixed-use annex reportedly developed at Sh5 billion.
With the new looks, these hotels hope to take the battle right at the doorsteps of the new kids on the block: global chains that have taken the local hospitality industry by storm.
Take the case of the 183-room Nairobi Serena Hotel, which is a member of Leading Hotels of the World. Over the years, the hotel has won a number of national and international awards and accolades, including being consistently voted as Nairobi's leading business hotel.
Read More
According to Rosemary Mugambi, Serena's regional sales and marketing director, the hotel is presently undergoing an expansion and refurbishment to the tune of $23.5 million (Sh2.4 billion)
The hotel will see its room inventory increase to 199 with the addition of a new floor of guest rooms and suites. The existing rooms are being reconfigured and upgraded by either enhancing current features or installing new ones.
"We are installing soundproof windows for better guest comfort, installing energy-efficient air conditioning system and extending bathroom facilities. The rooms will also have a High Definition Multimedia Interface (HDMI) plug-in for superior entertainment," says Mugambi.
Other facilities include a new ballroom, a parking silo for 120 cars, a new executive lounge, a new specialty restaurant, redesigned front of house areas and refitted back of house areas.
The first phase commenced in December 2016 and is scheduled to be completed in December this year while the second phase is scheduled to be completed by June 2018.
"We need to ensure that Serena remains unique while meeting the ever-changing client needs, new business trends and markets that have enabled the growth of the hospitality industry in the region," she says.
The group has recently completed a similar refurbishment programme at its city hotels in Dar es Salaam (Tanzania) and Maputo (Mozambique) while the expansion and refurbishment of its city hotelin Kampala is being completed in phases.
Next to the Mombasa Road-Southern Bypass interchange is Ole Sereni, the eight-year-old hotel with perhaps one of the best views of Nairobi National Park.
A completely new hotel, adjacent to the current one will rise 13 floors into the sky. With about Sh2 billion budget, it will have 148 rooms broken down into suites, standard rooms, apartments and a presidential suite.
To boost its conferencing facilities, the hotel will have three large meeting rooms, a banquet lounge and a ballroom that can comfortably fit a dinner-style set-up of up to 500 people.
"The idea of building this hotel came from the demand in the area of hosting large conferences and banquet dinners. And we are proudly promoting Nairobi's most important heritage, Nairobi National Park, the only one in the world located within a city," says Karl Hala, the general manager.
And that is not all. The iconic Hilton Hotel in the Nairobi Central Business District, will welcome its newest sibling - Hilton Nairobi Upper Hill, the group's tallest hotel in Africa, by 2020.
"In recent years, Upper Hill has grown to become a hub for international businesses and organisations, with a number of embassies and organisations setting up their regional offices in the district," said Patrick Fitzgibbon, Hilton Worldwide's senior vice president for Europe, Middle East and Africa.
Cytonn Investments says the drive may have been driven by accommodation demands brought about by leisure and business travel. Cytonn said that by 2015, Kenya had a supply of 21 million beds against an arrival rate of 1.2 million, an obvious oversupply of rooms. Naturally, low occupancy levels result in low revenues in an industry that heavily relies on foreign travellers.
According to Cytonn's senior manager for regional markets Johnson Denge, hotels have been looking for ways to optimise returns on their massive investments. Conferences and domestic tourism are the new drivers behind the expansions.
"The hospitality industry has struggled in the last few years due to insecurity, competition, travel advisories and overreliance on foreign tourism. The average market occupancies are at 29 per cent, with Nairobi registering about 51 per cent mainly due to business travellers," he says.
But Mike Macharia, head of the Kenya Association of Hotelkeepers and Caterers, the key driver is investing for the future. This future, he says, will be infrastructure-driven, with key hotels positioned on the new corridors.
"There is expansion of Mombasa Road, Ngong Road, Nairobi Light Rail project, ring roads and the Standard Gauge Railway. Tourism is expected to grow, making Nairobi a business hub," he says.
Macharia says infrastructure-led hospitality sector expansion will target three million visitors, a tall order for a sector that is still smarting from over-investment and stiff competition from serviced apartments and homestays such as Airbnb.