How Covid-19 pandemic has dealt a blow to scientists' efforts to save northern white rhinos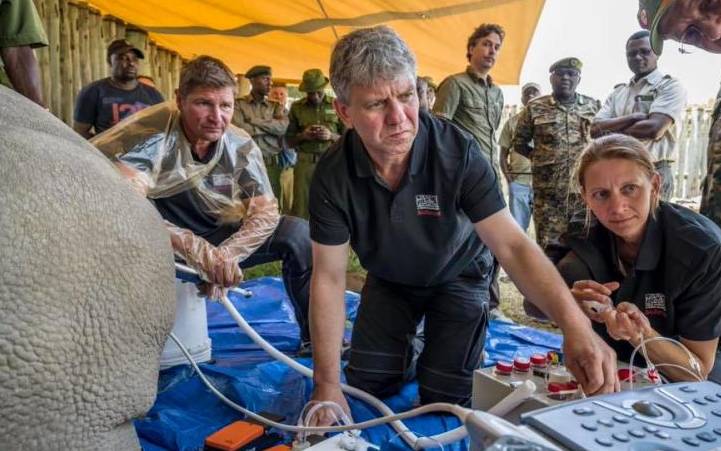 The initiative to save northern white rhinos from extinction has stalled as a result of travel restrictions effected to control Covid-19 pandemic.
The initiative dubbed Race against extinction involved assisted reproductive techniques through Intro Vitro Fertilization which was the last resort to save the northern white rhinos. The rhinos are the only two surviving species and are hosted at Ol Pejeta Conservancy in Laikipia County.
The procedure to save them from extinction, kicked off August last year after a consortium of scientists and veterinarians successfully harvested eggs from the two female northern white rhinos.
"The ground-breaking procedure involved scientists and veterinarians from several countries. The next procedure of harvesting more eggs was to take place in Kenya and was slated for the first week of May but restrictions on travel to contain the spread of the pandemic affected it," Kenya Wildlife Service Head of Veterinary Services, Dr David Ndeereh said.
Another procedure that has been halted, involved transferring of the three fertilised embryo to surrogate southern white rhinos at the conservancy.
The eggs, which were harvested last year in a ground-breaking process were fertilised using frozen sperm from deceased males.
The fertilization took place in laboratories in Italy.
"We however hope to resume the procedure once travel restrictions are lifted," Dr Ndeere said.
Echoing Ndeereh's sentiments, Ol Pejeta conservancy CEO Mr Richard Vigne said the pandemic has dealt a blow to the tourism sector both locally and internationally and conservation efforts.
"The pandemic has had adverse impacts. In the race to save the northern white rhinos, the eggs from the two females were to be harvested after every three to four months to maximise on survival rates. However, that has since been put on a halt as a result of the pandemic," Mr Vigne said.
He revealed that the three embryos which were to be introduced to the surrogate mothers at the conservancy have been stored safely until the process resumes.
"The whole conservation efforts has been put back by the pandemic and we are waiting until normal resumption of activities so that these crucial processes can continue," Mr Vigne said.
Additionally, he pointed out that the pandemic he added has also led to a significant reduction in revenues which has affected operations.
The initiative to save the white rhino is a joint effort of the Kenya Wildlife Service, Leibniz Institute for Zoo and Wildlife Research (Leibniz-IZW) Berlin, Avantea, Dv?r Králové Zoo and Ol Pejeta Conservancy.
The plight of the northern rhinos has been worsening with time and by March 2018, the last male northern white rhino named Sudan died, dealing a blow to conservation efforts.