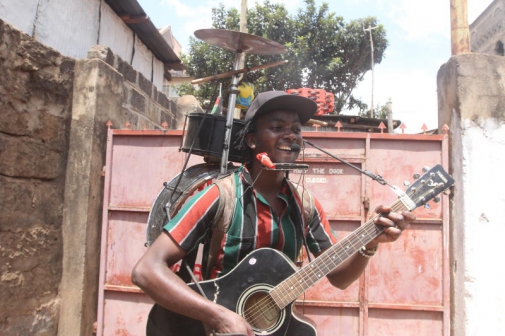 With a guitar in his hand and other musical instruments on his back, Joshua Kamau is a walking one-man band. In total, he has 12 music instruments connected together weighing a total of 10kg. Kamau, 31, is a common sight in the streets of Nairobi.
At first sight you might mistake him for a clown until he starts playing his instruments and sing. It's a talent the eighth-born in a family of 10 from Murang'a nurtured at Kerugoya Boys' Secondary School.
"In school I was asked to choose between Agriculture and Music. I chose the latter because I was passionate about it," he says.
Upon completion he joined University of Nairobi for a diploma in sales and marketing. He, however, was not cut out for academics and dropped after failing many times. While contemplating what to do, he decided to buy a guitar. He taught himself how to play from You Tube. He approached some friends with an idea of forming a band, but they turned him down.
First show
Undeterred, he went ahead and bought maracas, tambourine, kazoo, saxophone, hi-hats, cymbals and bass, he started listening to various songs so that he could replay them. His first performance in the streets was in June 2014 in Yaya Centre.
He says: "I knew the lyrics of one song only, No Woman No Cry by Bob Marley since I am reggae fan. When I started my performance, people who were mesmerized with my prowess started contributing."
He continues, "It was my first day and I was going to showcase my skill in the streets and get responses. I performed in different venues and at the end of the day, I went home with Sh10,000."
Remarkably, Kamau decided to perform in the city streets from 3pm to 6pm every day. He vividly remembers some days when he would walk back to his home in Kibera for lack of fare.
He observes, "When you perform, don't expect cash; I only wanted my performance to be a stress reliever for people who were going back to their homes after a difficult day. Sometimes people would give me some cash. Someone recorded a video while I was performing and posted it online. People and companies started to look for me to perform in their events."
When he is not entertaining Nairobians at Kencom stage, Railways, Bus Station and Khoja in Nairobi, Kamau is busy touring other counties. He cannot fail to pocket a minimum of Sh3,000 in a day. He has not given up going back to school though and hopes to finish his diploma.
When we caught up with him, he was preparing to travel to Mwanza, Tanzania to perform his art, after a pastor who learned about the 'Kenya's one man guitar' came looking for him.
Asked when he will be coming back, Kamau smiles and says: "Who knows, I might cross over to Rwanda. I am travelling a lot; this skill is taking me places. Everyone is gifted in one way or another. If you start something small, be focused and believe in God."