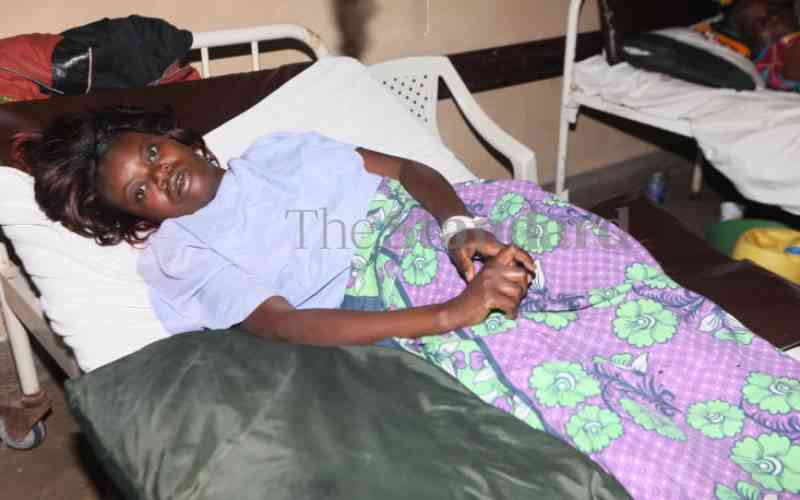 The sole survivor of the accident that killed 21 people on the Mombasa-Nairobi Highway on Friday evening recounted events leading to the tragedy.
Pamela Chae, 21, said she was among the eight members of the Mgeno Pefa Church in Mwatate who were travelling in the matatu to Mombasa for a wedding when the van collided with a lorry near Taru in Kwale County.
Her four-year-old son was among those who perished in the accident that occurred at about 6pm. Chae's two limbs were fractured and she is admitted at Mariakani District Hospital.
"God has given me a second chance. The diver tried to veer off the road when he saw the incoming lory but it was too late," said Chae.
Her Husband Arthur Mwakale said he was yet to locate the body of their son who died in the crash. "I've lost my son but I still thank God for saving my wife," said Mwakale.
Yesterday Kinango OCPD said Chae was the only survivor but Mwakale insisted that his in-law, Ester Kandi, was also in the ill-fated van and was admitted at Coast General Hospital.
"My cousin's wife was in the same van and she is still alive. She is recuperating at Coast General Hospital," said Mwakale who said he will inform his wife about the death of their son once she has recovered.
"She is still in pain and I do not know how she will handle the sad news. I'll first find the body of my son which I'm told was collected from the scene before I decide when I will inform her," he said.
Meanwhile, the driver of the lorry, Willy Musyoka, told The Sunday Standard that he sustained minor injuries on his left knee. He was treated at Bomu Hospital in Mombasa and discharged.
"I've not recorded my statement so I cannot say much. I'm headed to Taru police after that we can speak," said Musyoka who was driving the truck owned by Bahari Forwarders Limited.
Yesterday, Kinango OCDP Fredrick Ombaka said one victim who was receiving treatment at Mariakani Hospital succumbed to injuries bringing the death toll to 21.
"Of the two who were admitted at Mariakani, one died while undergoing treatment but Pamela Chae who sustained a fractured leg is in stable condition," said Ombaka.
Meanwhile, the driver of the matatu identified as Benedict Mwandawiro Mwakilemba. Mwakilemba and his conductor died on the spot according to the police report.
Among those who met their death in the tragic accident included family members who were going to a wedding in Mombasa and a Mwatate-based Pastor Ben Mdawida.
At the sleepy village of Mgeno which lost eight people, the pain was unbearable and villagers who were lost for words thronged to the deceased's home to console the family members following the death.
One of the villager, Margaret Mwakilemba, said her son died in the crash.
"My son lives in Mombasa with his family and he visited me two weeks ago. His death is a big loss to us," said Mwakilemba. She said the son left behind three children.
At Voi Central Business District, drivers were also mourning their colleague.