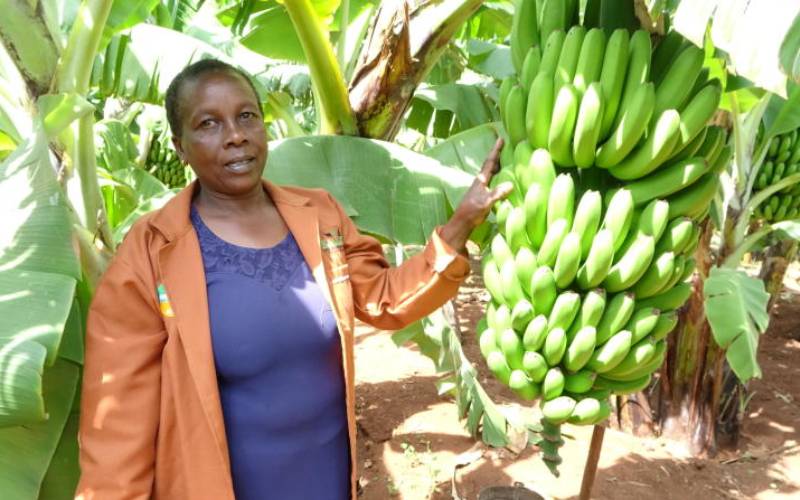 Soil fertility in the country is on the decline due to continuous farming without sufficient application of nutrients.
However, soil testing is now transforming farming in Kericho County.
For Rose Chepkwony it wasn't until the year 2020, when Kenya Agricultural Livestock Research Organisation (KALRO) conducted soil testing in her farm, that she realised that the soil acidity levels were high due to low levels of potassium and zink.
"To reverse the trend, I began applying fertiliser rich in zink and potassium and a neutralizer to bring down the acidity," she said.
Mrs Chepkwony from Laliat village in Ainamoi Constituency said the grand main banana variety which she procured from Kalro, yields up to 15 bunches and weigh 80Kgs.
"Before then the bananas would yield five to six bunches. They now yield more than double after the soil test was done and I began applying fertilizer with the right ingredients," she said.
Chepkwony revealed that the effort has now increased her earnings to around Sh1,500 per year from a single plant. The farmer's plantation comprises at least 120 banana holes.
"I earn around Sh300,000 per year," she said.
As more farmers take note of Chepkwony's thriving banana plantation, her farm has become a learning centr providing the farmer with a new business opportunity selling suckers each at Sh200.
In Kericho, the area under banana cultivation is about 423 ha, valued at about Sh350 million.
It is mainly grown in the lower altitude sub-counties, of Ainamoi, Sosiot, and parts of Cheplanget and Kiptere.
Speaking during the launch of the Africa Connect Digital, a farmers platform by Yara East Africa, Samuel Rono from Kipkelion East Constituency, said soil test conducted at his maize farm indicated that the soil was acidic due to decade-old use of DAP planting fertilizer.
"But since changing to Microp planting fertilizer, I began harvesting 13 more bags of maize from the previous 12 bags from the acres of land," he said.
Kalro director-general Eliud Kireger said nutrient depletion varies with the intensity of field management, soil properties, and landscape.
"Some of the negative effects of land degradation include a decline in crop productivity, food insecurity, low returns on agricultural investment, and environmental degradation," he said.
Dr Kireger revealed that fertiliser trials conducted by KARI (now KALRO) in 1994 in 37 counties showed that major soil nutrients–nitrogen and phosphorus–, were deficient in 57 per cent and 26 per cent of the counties respectively.
He nonetheless said KALRO has been undertaking a soil fertility replenishment strategy based on integrated soil fertility management (ISFM) practices.
The approach advocates the use of both organic and inorganic fertilizers for balanced nutrient fertilisation.
"For increased and sustainable crop production, appropriate fertiliser recommendations based on soil tests are paramount," said Dr Kireger.
He revealed that Kalro is working in five counties–Bomet, Kericho, Machakos, Nyandarua, and Nyeri–under the soil fertility replenishment strategy.
In Bomet, Kericho, soil testing is focused on banana production, pigeon pea, and green grams varieties in Machakos, and Irish potato in Nyandarua and Nyeri.
Dr Esther Gikonyo, a soil fertility and plant nutrition scientist at KALRO – Kabete, argued that to improve crop production, the management of soils up to 10 years is required
She explained that soil testing is one of the important tools that is used in research, in policy formulation, and used for the improvement of the farmers' field
Dr Gikonyo also revealed that KALRO is trying out the spectral techniques and innovative equipment, the scanner, and also the 'Lab in a box" in soil testing
She also pointed out that there are innovations from a nongovernmental organization Kalro has been working with in the project to test soil against the conventional method of soil testing known as the Wet Chem.