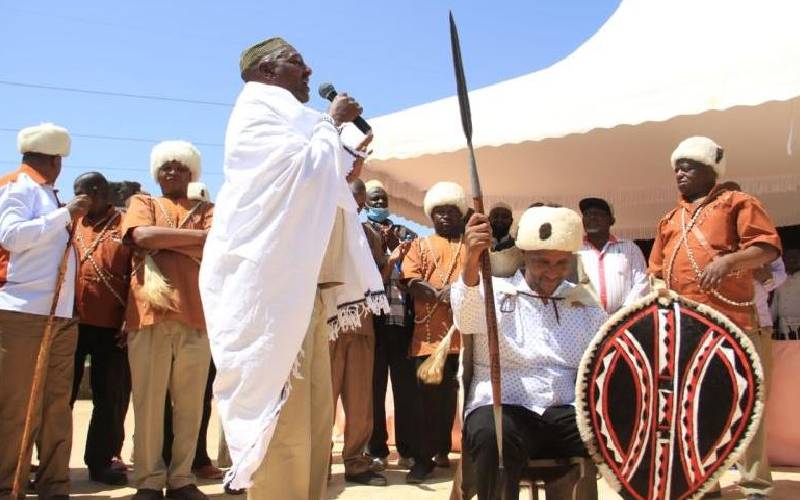 The race for Embakasi Central parliamentary seat has gained momentum after Kikuyu and Borana elders on Thursday endorsed Nairobi County Assembly Majority Leader Abdi Guyo.
With less than seven months to the general election, Guyo, who also doubles as the Matopeni/Springvalley MCA, is seeking to oust the incumbent, Benjamin Mwangi, who is seeking re-election under Deputy President William Ruto's United Democratic Alliance (UDA).
During an event held at a hotel in Ruai, the Ali Jilo-led Borana Council of Elders together with the Kikuyu Council of Elders ( Kiama Kiama) donned the majority leader in traditional hide and honoured him with symbolic keys, shield and spear.
The endorsement consequently set the stage for a showdown between the one time allies in the Jubilee Party.
"We have now blessed and given you the go-ahead to campaign and knock on every door as you seek for votes," said Mwangi
Guyo, on his part, reiterated that once elected, his focus would be to improve the lives of his constituents, noting that he would continue with projects that he initiated during his Ward Rep tenure.
"I aspire to practice servant leadership. I will ensure that services are devolved to the constituencies and are offered to all, equally. We are going to work with everyone in order to improve the economic situation of our constituents, and ultimately the country," said Guyo.
Guyo also called on his competitors to practice tolerance ahead of the August 2022 polls.
"For those vying for the seat, I urge that we practice political tolerance and accept the outcome of the polls, no matter who wins," added Guyo.
The event was graced by a section of Nairobi County MCAs.