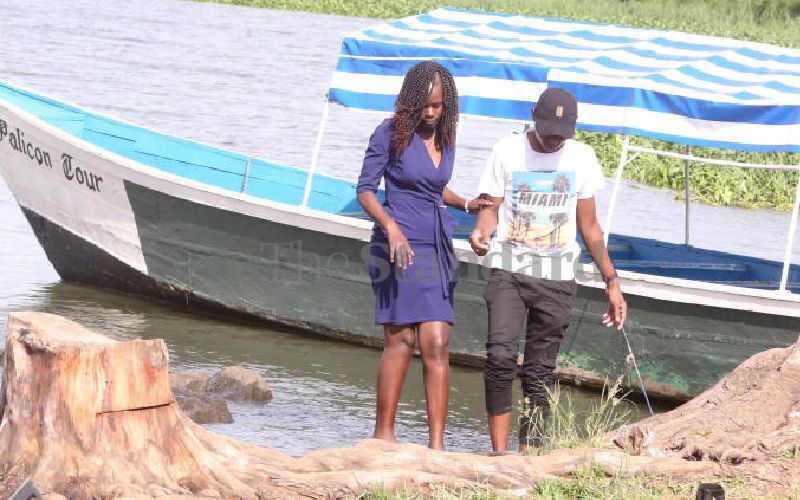 From a weekend getaway destination with a beautiful view of the sunset, the site has remained a pale shadow of itself today.
With the rising water levels in Lake Victoria that have damaged roads, residents have only been left with memories of how they spent their weekend afternoons at Hippo Point in Kisumu County.
Magdaline Ndenda, who has run an eatery at the site since 2018, said business in the once vibrant tourism site has slowed down with only a handful of clients.
Ndenda said many people with vehicles now avoid Hippo Point because of the poor road network.
She regretted that only a few people still visit Hippo Point especially over the weekends but this has not helped grow business.
"We expect to make some little profit from the sales at the end of the day but very few people now visit Hippo Point. Like right now, it is already past lunchtime and I have only sold food worth Sh250. This is a very serious loss because I have someone here who helps me and has a little baby," said Ndenda.
She said the big potholes that are filled with water makes clients prefer Dunga Beach, which is only a stone throw away and has a good road network.
"Most clients leave their vehicles at the roadside because of the bad road. They do not sit here for longer periods like in the past. They are always worried about the security of their vehicles. I urge the county or national government to help us bring back this lost glory," she noted.
In the past, she would make a profit of Sh4000 every day and would pay her employee and still go home with some money to buy food for her family.
She said businessmen at Hippo Point now only work until 6 pm because of lack of lights "which is very risky for any person handling money."
"When you go a few meters from where we have put up our business structures, you will see how bushy it is. That area is also very dark at night and very insecure for any business person handling money and also clients. We have solar within our structures but we cannot depend on them to light the entire place," she added.
Lack of social amenities also turns visitors away from Hippo Point which could otherwise be a good open-air place for people to make merry while enjoying the lake breeze.
Richard Omonye, a businessman who deals with curio and also makes sculptures, said he has been in business since 2009, but this is the lowest time regarding sales.
He started at Lwangni Beach before moving to Hippo Point in 2019. He said business was very good at Hippo Point until Covid-19 was declared in the country.
Omonye added: "The backflow of Lake Victoria that damaged the road played a major role in the collapse of the once vibrant tourism site. People shy off from visiting this place now. I understand their plight as well. It is not easy accessing this place anymore and now we have very few visitors coming here."
Titus Mulwa, who has been working as a freelance tourist guide since his student days in 1994, at the Hippo Point, said the site was once known all over the world as it was very popular.
Mulwa said the county government is yet to improve the site years later after business people pulled out of the site. He also noted the confusion, whether this site is still in the hands of the county or owned by an individual.
Kisumu acting Public Communication chief officer John Oywa said the county government has identified Hippo Point as one of the tourist attractions along the lake.
"Our aim is to revive it and make it a more vibrant waterfront and recreational spot. We have big plans for it and this includes improvement of the feeder road to the beach and building social amenities. The county government will factor this in the next financial budget," he said.