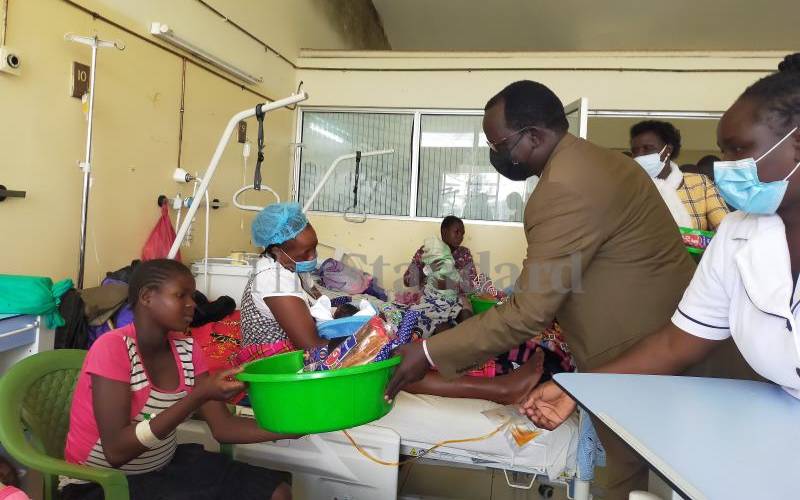 At least 30 babies were delivered on New Year at Kapenguia Referral Hospital in West Pokot County.
The 2022 new mothers held their bundles of joy as area Governor John Lonyangapuo and his wife Mary Lonyangapuo made an impromptu visit to the hospital to offer them gifts.
Prof Lonyangapuo congratulated the mothers for safely delivering their babies, adding that the Kenyan government should invest more in maternal health to save the lives of mothers and their newborns.
Lonyangapuo said, with all the challenges the country faced in the health sector due to the Covid-19 pandemic, counties struggled to make sure locals accessed quality health care services.
He noted that the health sector was affected in terms of medical supplies and called on the national government to consider allowing counties to purchase their medical supplies from other suppliers rather than relying on Kenya Medical Supplies Authority (Kemsa).
"162 patients have been admitted at the Kapenguria Referral Hospital, and we now have 30 new babies added into our population. Amid all the challenges, we need other quick supplies to help us during emergencies," he said.
He said the county should also appreciate and support medical practitioners who work hard day and night to serve the sick.
He said the law needs to be reviewed by the Senate and National Assembly to ease procurement of supplies.
"Immediate access to medical supplies should be considered," he said.
Dr Mary Lonyangapuo said maternal health across the country should be given priority, and mothers should be encouraged to deliver in hospitals.
"Mothers should not deliver at home. Although midwives do a good job in the villages, medical attention in hospitals is essential and saves lives in case of any emergencies," she said.
Rovina Kodoki, the nursing officer in charge at the hospital, said the facility conducts around 600 deliveries per month.
"All the babies delivered last night are in good health with no mortalities recorded," she said.